Alex Lyness
Manager, Research & Tech., R&D
West-Cornell Program Leads to the Development of a Programmable Drug Delivery System
A team of three Cornell University Biomedical Engineering graduate students recently completed a collaborative project with West focused on the development of a proof-of-concept delivery system for a veterinary application.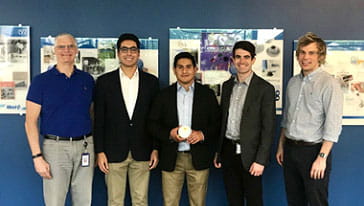 From Left to Right: Jim Thompson (West); Gustavo Anaya, Diego Cordero, Geoff Rouin (Cornell); Dr. Alex Lyness (West)
The project is part of a long-term relationship that West has maintained with Meinig School of Biomedical Engineering at Cornell University since 2007.
The Cornell-West program provides a unique opportunity for a group of students to gain experience through the completion of a summer internship at West prior to their graduate program. During the summer of 2018, the students researched the current enabling technologies that can be utilized in the development of advanced drug delivery devices.
This year's team of Gustavo Anaya, Diego Cordero and Geoff Rouin, then completed a 10-month design project as part of their graduate program at Cornell. They strategically utilized the laboratory capabilities at the Cornell University Department of Biomedical Engineering to determine feasibility of fabrication and testing of a novel delivery system. A prototype and proposed functionality of the device was presented to subject matter experts at West HQ in Exton at the end of the 2019 spring semester.
"The internship with West was a great opportunity to learn how emerging technologies can be integrated into more advanced drug delivery systems," said team member Geoff Rouin, who has since taken on a role as an Associate Biomedical Engineer at West. "Completing the project at Cornell provided me with practical experience in the medical device design process while also continuing my learning through technical engineering and professional coursework. I look forward to stepping into my new role with the company."
Dr. Alex Lyness, Manager, Academic & Technology Research, noted: "The collaboration between West and the Biomedical Engineering School at Cornell has been very successful over the past decade. Having students work on a real world-project through their studies is a great learning experience in both directions and has led to many being recruited to the company. We now welcome Geoff, as the newest recruit from the program, and look forward to what he delivers to West in his new role."
The Cornell Graduate Internship is one of many strategic academic partnerships that West Innovation & Technology has established to explore areas of interest and develop innovative drug delivery solutions. For more information on innovation at West, visit our website or contact us.