Daniel Bantz
Technical Manager, Packaging & Performance Testing
Performance Testing: Analysis with Zwick/Roell Testing System
A key aspect of supporting our customers consists of the capability to measure essential performance requirements (EPRs) of combination products which requires having the right equipment. To enhance this capability, West has added a Zwick/Roell zwickiLine testing system to its laboratory portfolio.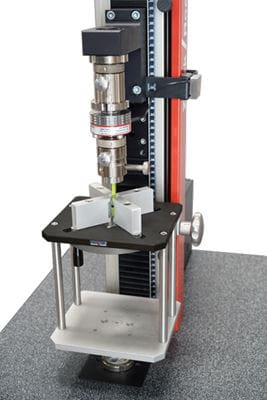 A well-constructed test plan for combination products is based upon accepted standards. The zwickiLine system is ideally suited, as it is capable of testing according to: ISO 11040 Part 4: Glass Barrels for Injectables and Sterilized Subassembled Syringes Ready for Filling – and its Annex Sections:
C.1: Flange Breakage Resistance
C.2: Luer Cone Breakage Resistance
E: Glide Force Test Method to Evaluate Syringe Lubrication
F: Needle Penetration Test
G.1: Needle Pull-out Force
G.2: Closure System Liquid Leakage
G.3: Luer Lock Adapter Collar Pull-off Force
G.4: Luer Lock Adapter Collar Torque Resistance
G.6: Tip Cap or Needle Shield Pull-off Force
A benefit of employing such a system is that it enables commonality of testing among laboratories and manufacturers. Using the same equipment, the same fixtures and the same software, test-related differences are reduced, and like-for-like testing is enhanced. This testing system speeds time to market, as custom equipment/software development is eliminated. Moreover, software is compliant with 21 CFR Part 11 (FDA regulation on electronic records and electronic signatures); this promotes seamless data sharing and, most importantly, data integrity.
As part of the Integrated Solutions platform, West strives continually to enhance capabilities to support customers in the safe and efficient delivery of drug products. The addition of the zwickiLine system is just one example. For more about West or the zwickiline system, please contact an Account Manager or Technical Customer Support (TCS) representative.