Annette Favorite
Sr. VP and Chief HR Officer
Why West is By the Side of our Team Members, Communities and Patients
Working at West means having an opportunity to work by the side of our global team members and the communities in which we operate, as well as our patients and customers – which all help contribute to a healthier world.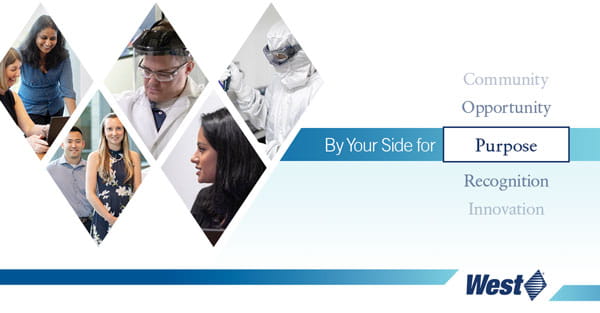 At West, we work by the side of our team members. We come together as one global team to deliver for our customers and help them address their challenges. We are a diverse, close-knit community of professionals, where everyone has a voice and opportunity to learn and grow through mutual trust and respect. With a 95 year plus history, we have a track record for success.
We strive to unleash the talent of each team member at West. Our diverse team of employees spans the globe, but we are united by our integrity and mutual respect for one another, the safety of our work environments, and the communities in which we operate.
One of our core values is working as "One West Team" which means building a sense of community both inside and outside the walls of West. Internally, it means that we foster an environment where employees feel valued and respected, have opportunities to excel and are happy to come to work. It means we not only appreciate, but celebrate the diverseness of our team, recognizing that diversity of thought, experience, geographic region and more, will propel us forward. It means we collaborate to keep our working environments safe – day in, day out.
We serve by the side of our community. Giving back is in our DNA—our team members across more than 50 sites globally are involved with hundreds of charities that have special meaning to them through our West without Borders team member-led giving program. At West, we have a long history of giving back—it's a very unique part of our company. We have lots of ways for our employees to get involved. We run a number of internal fundraising campaigns, and last year, globally we raised nearly $515,000-- which means our employees raised half a million dollars for charities around the world! We also run volunteer programs. For example, we do an annual Food Drive, Toys for Tots, and often our teams will get together to give back as part of our team meeting.
We are by the side of patients. The work we do impacts patients' lives each and every day – our products are a critical part of healthcare delivery and we are proud of the role we play in patient health.
We manufacture containers, closures and delivery devices for injectable medicines. If you've ever been vaccinated for the flu, or if you or a loved one has ever needed to take a medicine that was injected, you've probably come in contact with a West product. We partner with the world's top pharma and biotech companies—almost all of the top 100 companies, and thousands of others, to contain their injectable medicines and therapies and deliver them to patients safely. In fact, we make more than 110 million component pieces each day that go into those systems and devices! We pride ourselves on touching millions of patients' lives across the globe and playing a critical role in delivering healthcare.
Will you join us, and help us to create value for our team members, our community, and for our customers and patients for the next 100 years and beyond? Click here to learn more about career opportunities at West.
#WestByYourSide #WhyJoinWest
West without Borders is not affiliated with Doctors Without Borders®, which is a registered service mark of Bureau International de Médecins San Frontières.