Carol Mooney
Director, Commercial, Digital & Transformation
Additional Products Now Available on West's Online Store
West is pleased to announce that we've recently expanded our Online Store offerings to include a 20mm NovaPure® Ready Pack™ lyophilization stopper, adaptiQ® vials from SCHOTT and Ready Pack™ Flip-Off® CCS (Clean, Certified, Sterilized) seals. West's Online Store is a one-stop solution for access to small quantities of some of West's highest quality products, in stock and available ready-to-use in convenient small packs. Depending on their product needs, shoppers can now purchase a complete vial containment system with the option of selecting either Daikyo Crystal Zenith® or adaptiQ glass vials.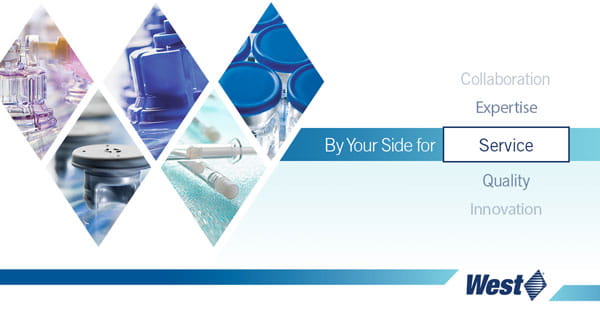 In stock stopper, vial and seal items are available at a minimum of 500 pieces and up to 5,000 pieces depending on the item. During the checkout process, shoppers can select from three UPS shipping services, and orders will ship globally within 5 days of acknowledgment. A convenient "My Account" feature includes past order details for easy access to order-related documents and UPS tracking information.
"For customers, the Online Store represents a new way of doing business with West that offers the convenience of product knowledge and information with the ability to make purchases quickly and easily," said Carol Mooney, Director, Commercial Digital Transformation. "We are meeting the needs of the marketplace to provide customers with buying options and information in a digital format that will make West a more valuable partner."
NovaPure® lyophilization stoppers are made from 4023/50, a premium quality bromobutyl elastomer with West's lowest particulate specification available. Laminated with FluroTec® barrier film to help reduce particulate, limit drug interaction with the elastomer and reduce leachables. These components are provided ready to use and 100% vision inspected. This stopper configuration can be used with European blowback, North American blowblack, or straight wall (no blowback) vials.
Ready-to-use Flip-Off® CCS (FOCCS) seals are an ideal choice for small quantity filling of high-value drugs. The seal is assembled in an ISO 8 environment and comes with a matte finish, gamma stable polypropylene button. The aluminum shell is coated for low particle abrasion and is clear lacquered. With a specified low particulate and bioburden level, FOCCS seals will help to increase operational efficiency while meeting highest market and EMA Annex 1 regulatory requirements.
Daikyo Crystal Zenith® resin is a high-quality engineered cyclic olefin polymer (COP). The 2mL and 5mL vials provide a ready-to-use, high-quality solution to glass incompatibly issues. The vials stand up to cryogenic storage environments and show a low protein/peptide adsorption. With glass-like transparency, superior break resistance and low risk of chemical interactions, Crystal Zenith vials help to avoid issues including delamination and particulates, providing an integrated lifecycle solution designed to maintain drug safety, purity and efficacy. The vials are supplied in a ready to use, sterile format (E-beam sterilized) and are fully vision inspected.
adaptiQ® vials from SCHOTT are high-quality, clean, sterile, ready-to-use vials for pharmaceutical drugs, particularly biotech drugs. The 2R, 6R and 10R vials come in TopLine quality and are packaged in industry standard tub and clip nest configuration without glass-to-glass contact to avoid breakage and low particle load with the goal to enhance patient safety.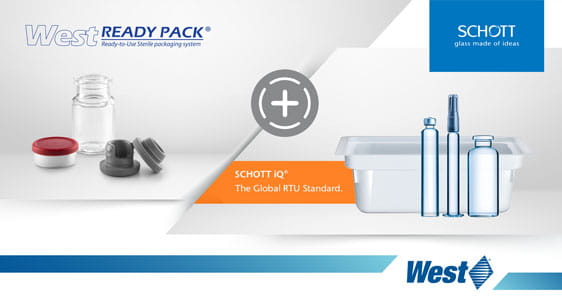 New customers who complete a purchase online are granted automatic customer-level access to the newly redesigned West Knowledge Center, for in-depth technical content and support.
"We are always working to improve the ecommerce site" said Carol Mooney, "and now online shoppers are able to purchase products with an existing Purchase Order (P.O) in addition to a credit card."
The Online Store is a direct response to the needs of our customers for sales channels that work as fast as they do and delivers on our promise to be by the side of customers for innovation.

NovaPure®, Ready Pack™, Flip-Off® and FluroTec® are trademarks and registered trademarks of West Pharmaceutical Services, Inc., in the United States and other jurisdictions.
FluroTec technology is licensed from Daikyo Seiko, Ltd.
Crystal Zenith® is a registered trademark of Daikyo Seiko, Ltd.
Daikyo Crystal Zenith® technology is licensed from Daikyo Seiko, Ltd.adaptiQ® is a registered trademark of SCHOTT AG.