Gillian Power
Specialist, Global Communications, EU
Dublin Team Member Participates in 200km Challenge for Diabetes Ireland
Philanthropy is a cornerstone of our culture at West. It anchors our purpose of standing by the side of our customers to make a difference in our global community.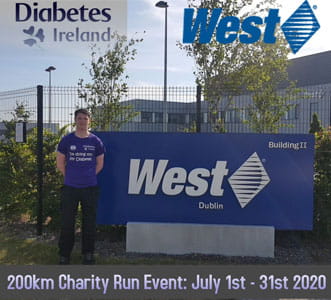 Our One West Team value embraces philanthropy every day by making generous donations of time and resources. As a result of COVID-19, many charities have suffered a fall in revenue due to restrictions imposed by local governments preventing them to carry out much-needed fundraising. New innovative ways of fundraising are popping up each day.
At our Dublin, Ireland Contract Manufacturing facility, team member Kevin O'Connell, Sr. Technical Support, Engineering, is currently running 200km for the month of July to and from work every day while also working a 12-hour shift to help support Diabetes Ireland. Diabetes Ireland is a national charity in Ireland dedicated to helping people with diabetes by providing support, education and motivation. They also raise public awareness of diabetes and its symptoms and fund research into finding a cure for diabetes. This story is even more inspiring as Kevin also has Type 1 Diabetes, which means that he has had to manage his blood glucose levels and his insulin needs accordingly.
"Many things can affect my blood glucose levels. People generally know that diet and exercise can do so, but other things such as stress, tiredness and mental fatigue can also affect my glucose levels at any time, even when you are sleeping, so you need to be aware of your levels and be ready to take action and react accordingly. Through this challenge, I hope to inspire people with diabetes and everyone else to maybe avoid taking transport and walk, run and cycle to work," said Kevin.
Our site in Dublin plays an important role in the Diabetes market by supplying high-quality molding and assembly solutions to produce medical devices such as auto injectors and continuous glucose monitor systems. To show their support, the site has also promised to match all funds raised by Kevin for Diabetes Ireland.
"We are extremely proud here in Dublin of our own history of giving back to the local community and we are delighted to be able to support Kevin as he strives to raise much needed funds for Diabetes Ireland," said Tom Clarke, Site Director, West Dublin.
We would like to wish Kevin the very best of luck in the final days of his challenge and have no doubt he will be successful! If you'd like to support to Kevin's challenge, please click here.