Amy Kim
Sr. Specialist, Scientific Communications
West Ready Pack™ with adaptiQ® ISO No Blowback RTU Glass Vials from SCHOTT – Container Closure Integrity
West's Ready Pack™ system with adaptiQ® products, that are part of the SCHOTT iQ® platform, enables both small and large customers the convenience and flexibility to purchase small quantities of sterile, high-quality, ready-to-use (RTU) components. Ready Pack system components are packaged separately but tested for use as an integrated system. Designed to support customers throughout small-scale R&D, clinical trials, fill-finish evaluation, and commercial-scale manufacturing, the Ready Pack system is a comprehensive, scalable packaging solution that helps customers get to market faster by making the same high-quality packaging available from start to finish. Ready Pack systems keep up with emerging ISO standards and our Ready Pack offering includes the latest glass packaging formats such as adaptiQ® clip nest, cup nest, and tray solution.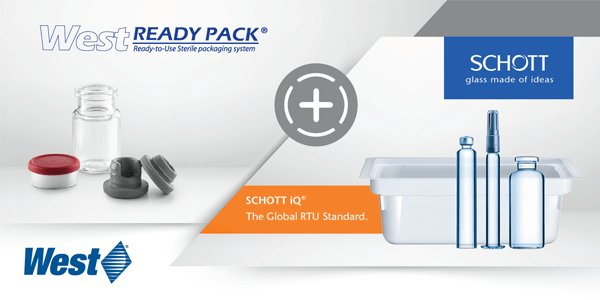 In a joint study with SCHOTT, West tested combinations of SCHOTT's highest quality ISO No Blowback (NBB) vials with West's sterile, RU NovaPure® Serum/Lyo 4023/50 Gray stoppers and gamma-sterilized Flip-Off® CCS/CCRS TruEdge™ seals for Container Closure Integrity (CCI). Results indicate these combinations offer viable closure systems over 24 months when used as in the study. See Technical Report 2020/219 "Container Closure Integrity Testing on EU NovaPure Closure Configurations for Ready Pack™ System with SCHOTT No Blowback Vials."
West is committed to the safe and efficient delivery of drug products, in particular, helping customers get to market more quickly. West's Ready Pack system helps to achieve these goals. For more information, contact an Account Manager or Technical Customer Support (TCS) representative.
Ready Pack™, NovaPure®, Flip-Off®, and TruEdge™ are trademarks and registered trademarks of West Pharmaceutical Services, Inc., in the United States and other jurisdictions.
adaptiQ® and SCHOTT iQ® are registered trademarks of SCHOTT AG.