Beth Crawford
Associate Specialist, Global Communications
West's Support of the LGBTQ Community and Pride Month
Each June, West recognizes Pride Month, which promotes and supports the self-affirmation, dignity, equality, and increased visibility of the Lesbian, Gay, Bisexual, Transgender and Queer or Questioning (LGBTQ) community.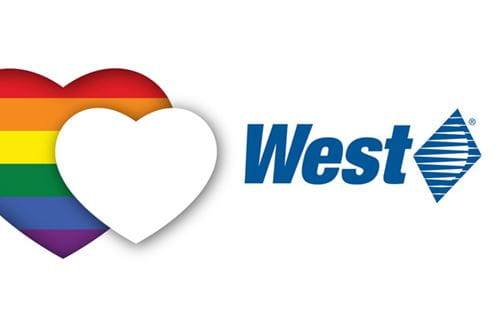 At West, we actively advance respect and tolerance through our culture of diversity and inclusion so that all team members are valued and have the opportunity to excel. "To help foster unity at West, we are committed to highlighting our team members' unique narratives and sharing information on how we can best support each other," said Annette Favorite, Sr. VP & Chief Human Resources Officer. "In turn, we encourage you, our diverse One West Team, to take action to expand our culture of respect and understanding."
Following the recent heartbreaking events of racial injustice and discrimination across the United States, it is even more important that we at West promote inclusion and tolerance. West supports the recent 6-3 ruling by the United States Supreme Court to protect LGBTQ workers from workplace discrimination by extending the scope of Title VII of the Civil Rights Act of 1964, which bars discrimination based on race, religion, national origin and sex. West has a zero tolerance policy for discrimination of any kind against our team members.
We proudly support the LGBTQ community and stand by their side to promote equality and celebrate gender variance. Every year, the LGBTQ community and their allies celebrate love, acceptance and pride at parades, picnics, workshops, concerts, and other events. This year is the 50th anniversary of the first Pride march held in New York City, which went on to inspire annual LGBTQ Pride traditions worldwide. While many large events have been canceled this year due to COVID-19, there will still be virtual celebrations, educational events and more to support fairness and equality for the LGBTQ community.
We are One West Team, and we stand stronger together. #WestByYourSide
To learn more about Diversity and Inclusion at West, click here.