Melanie Prudom
Director, Market Insights, Pharma
First FDA Compounding Center of Excellence Conference
West was pleased to recently attend the U.S. FDA's first Compounding Center of Excellence Conference "Working Together for Patient Safety" on September 21st and 22nd. The virtual conference brought together current and future outsourcing facilities, state and federal regulators, experts, trade organizations and other industry stakeholders to learn and engage on key topics and best practices.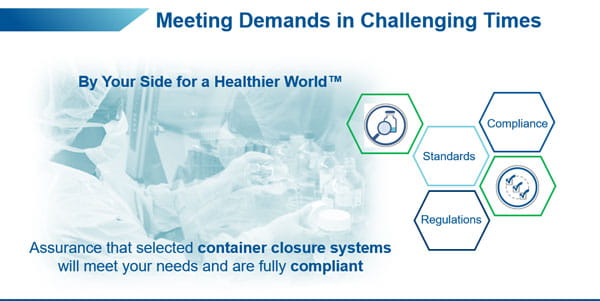 The general conference themes were shared responsibility for quality, promoting compliance and open communication and collaboration. Over the course of two full days, there were sessions on regulatory guidance, CGMP foundations, active pharmaceutical ingredient sourcing and bulk drug substances, inspections and responding to Form 483s, as well as updates on compounding during the COVID-19 pandemic. The industry has played a key role in assuring supply of needed medications to hard pressed hospitals, especially during the quarantine.
One of the most interesting sessions presented a case for automation and technology investment by STAQ Pharma, a brand new 503B outsourcing facility. The company representative not only shared the content of their business case, user requirement specifications and the process by which they evaluated automation options but also a video of the equipment in action. This included robotic vial filling.
West was interested to hear about upcoming Center of Excellence activities including additional training, research and analysis and regulatory science, as well as further engagement with the compounding community. We welcome the opportunity for West's world class laboratory to assist in obtaining meaningful scientific evidence that supports regulatory decision making and provides informed guidance to outsourcers facing quality issues. We look forward to further interaction with FDA as well as our compounding pharmacy customers at next year's conference.
West will be exhibiting and presenting at the Informa Connect Compounding Pharmacy Compliance conference.