Eecho Wang
Specialist, Communications, Asia Pacific
Safety Accreditations Earned at West Jurong and Qingpu Sites in Asia Pacific
We are very pleased to announce that two of our sites in Asia Pacific have received two additional safety accreditations recently, which further demonstrates and acknowledges our team's continuous commitment to health, safety, and environment throughout West and the industry.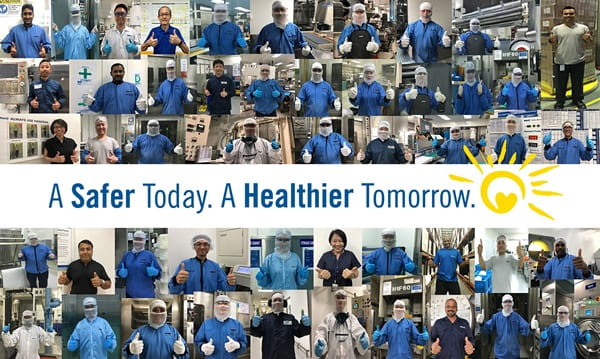 Our Jurong, Singapore Location received the ISO 45001 Certification
West Jurong, Singapore has been officially ISO 45001 certified through establishing a safety management system that helps manage occupational health and safety (OH&S) risks and is designed to prevent work-related injuries through proactive risk prevention and continual improvement. ISO 45001 is currently the most widespread International Standard for OH&S management. It not only requires an organization to demonstrate thorough understanding of its safety systems, but also ensures employees of all levels can take part and are engaged in OH&S related matters.
Our Qingpu, China Location Successfully Completed the PSCI Audit
As a result of performing well in the areas of Ethics, Labor, Health & Safety, Environment and Management System on Pharmaceutical Supply Chain Initiative (PSCI) principles, international standards, agreements, and local regulatory requirements, West Qingpu, China successfully completed the PSCI Audit.PSCI is a group of pharmaceutical and healthcare supply chain companies that shares a vision of better social, economic, and environmental outcomes for all those involved in the pharmaceutical supply chain. This includes improved conditions for workers, safe processes and facilities, economic development, and a cleaner environment for local communities.
"Complementing the West HSE program, ISO 45001 ensures the site is proactively managing the HSE process effectively. I congratulate the Jurong Singapore site for achieving this significant milestone!" said Steve Walton, VP of Health, Safety, Environment & Corporate Responsibility, "I similarly congratulate the Qingpu, China site for the very successful completion of a PSCI audit. It was great to see that the audit was completed with no major findings and I believe Qingpu will use the minor observations to further strengthen the site programs. Great job to both sites!"
"To enhance and protect the well-being of our team members, it's important to have an established Health & Safety Management System as well as a committed team at our workplace. With the collaboration to strengthen our Safety Culture among One West Team, we have observed a commendable safety improvement trend with relentless effort and focus by our team members in the recent years." said PangToon Tan, VP of Operations, Asia Pacific, "I would like to take this opportunity to thank everyone, and at the same time to congratulate both sites for notable safety accreditation. Great job by the team – and we shall continue the journey working together to prevent undesirable incidents from happening."
Congratulations to our Jurong and Qingpu teams for your continuous efforts on HSE and well-deserved accomplishments! To learn more about Corporate Responsibility at West, click here.