Carol Mooney
Director, Commercial Digital Transformation
SG EZ-fill® Glass Vials Now Available in Online Store
West is pleased to announce the addition of Stevanato Group's (SG) clean, sterilized, depyrogenated EZ-fill® glass vials in 2R, 6R and 10R sizes for 13mm and 20mm stoppers and seals to its Online Store. These ready-to-fill vials are a high-quality option for general pharmaceutical use.
Sterilized SG EZ-fill® vials produced by Ompi join the current set of smaller quantity Ready-to-Use quality component offerings that are available on West's Online Store for compounding pharmacies. The complete product line offering now includes: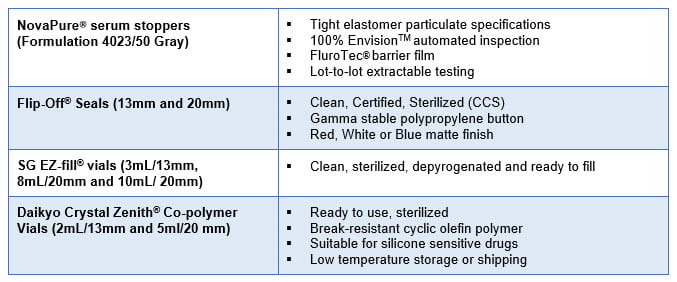 Products available in the West Online Store are easy to access and purchase:
The following supporting documentation for the product selected is available upon log in and prior to purchase: uncontrolled product drawings, master specifications, sample certifications and packaging images.
Customers can purchase using an existing Purchase Order or a credit card.
Upon completion of a customer's first online order, they are granted automatic customer-level access to the newly redesigned West Knowledge Center for more in-depth technical content and support.
The "My Account" feature stores all past order details for easy access to order-related documents and shipment tracking information.
In-stock products ship approximately three business days after order acknowledgement. Customers can select from three delivery service options, making for a quick turnaround.
We encourage our compounding pharmacy customers to check out the on-line ordering options in our Online Store.
NovaPure®, Envision™, FluroTec® and Flip-Off® are trademarks and registered trademarks of West Pharmaceutical Services, Inc., in the United States and other jurisdictions.
FluroTec® technology is licensed from Daikyo Seiko, Ltd.
Crystal Zenith® is a registered trademark of Daikyo Seiko, Ltd.
Crystal Zenith® technology is licensed from Daikyo Seiko, Ltd.
SG EZ-fill® is a registered trademark of NUOVA OMPI srl