Eecho Wang
Specialist, Global Communications
Sri City Site Celebrates 2,000 Days with Zero Recordable Incidents
Deep-rooted in West's culture, the health and safety of our team members has always been our top priority. And this remains consistent and strong despite the challenges brought on by COVID-19. Recently, our manufacturing plant in Sri City, India achieved 2,000 recordable incident free days, which is a tremendous milestone that demonstrates the team's collaboration and commitment to safety at all levels of staff, from management to the plant floor.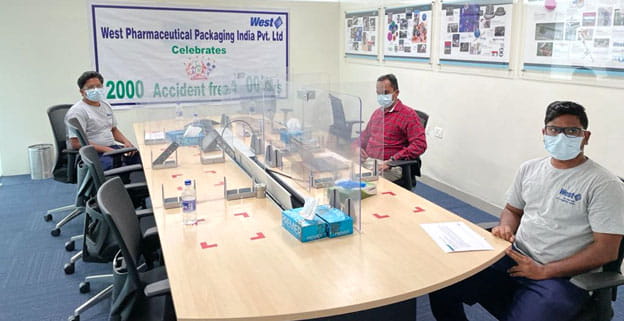 The believe that "one incident is one too many" has been deeply reinforced at our Sri City site as well as all West locations.. Besides the effective implementation of a strong West HSE program and promotion of safety best practices, the Sri City team is committed to promoting positive safety culture proactively. The Safety Week annual event enjoys strong team members' participation and engagement through various activities such as Safety Selfie, Safety Calendar, etc. In 2020, the team has gained a 100% participation rate for the 2020 Safety Perception Survey.
To celebrate the milestone, all the Sri City team members gathered together with AP regional leaders virtually. Stewart Campbell, VP & GM, AP, said: "I am extremely proud of the accomplishment for the Sri City plant and would like to thank every team member for your continuous focus and commitment on safety." PT Tan, VP, Operations, AP, added: "It's every team member's attention to safety details and keeping a mindset of "See Something. Do Something. Say Something" that leads to such a great achievement. Keep going!"
"We encourage our team members to participate in safety sessions and events frequently," shared Suresh Govindarajan, Director, Operations, Sri City, "It is the spirit of One West team that ensures all workers are looking out for one another and driving individual accountability. We strive to keep focus on safety as a tenet of our company culture."
Congratulations to the entire team at Sri City and thank you for your continuous efforts on maintaining and improving safety! To learn more about our sites and locations across the globe, click here. If you are interested in learning more about our commitment on Health and Safety, click here for our newly-launched 2020 Corporate Responsibility Report.