Tara Haarlander
Sr. Specialist, Scientific Communications, SA & TS, NA
Introducing The West Learning Center
Our vision for the West Knowledge Center has always been to deliver a digital platform full of the most cutting-edge science and product information to further support our customers and potential customers in their search for packaging and device solutions and services. But what about individuals who are new to the industry? Where do they go to gain a strong foundation in these areas to figure out exactly what they need?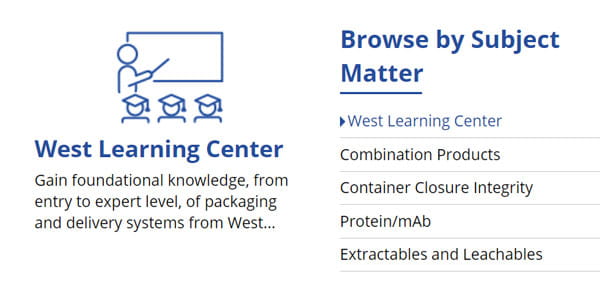 The answer is…our West Learning Center. As part of our ongoing effort to remain a valuable resource for our users, we have added a new section of the Knowledge Center with the goal of further helping our customers and potential customers gain an understanding of topics related to packaging and delivery systems, starting with the most basic and advancing to expert level information.
The first level of our curriculum, "Parenteral Drug Packaging and Delivery Systems 101," has been officially published and can be found here. You will find a series of presentations with basic information on various topics, including:
Elastomers
Seals
Glass
Films and Coatings
NovaPure® Components
Envision™ Verification Process

Coring and Fragmentation
Particles
Extractables & Leachables
Container Closure Integrity
AccelTRA® component program
And more...
Be sure to check back often as we continue to add courses and materials throughout the year that will offer information on a breadth of industry topics. We believe that knowledge is power, and through our Knowledge Center, we aim to remain a valuable resource for our partners during their journey of choosing packaging and delivery systems and services that are most appropriate for their injectable drug products.
If you are not yet a Knowledge Center user, we encourage you to register here to gain access to insightful information on a variety of industry topics. If you are a current customer, don't forget to check the "Customer level access" box to be automatically approved for our second level customer portal, where you will find many of your technical product documents.
NovaPure
®
, Envision™ and AccelTRA
®
are trademarks and registered trademarks of West Pharmaceutical Services, Inc., in the United States and other jurisdictions.