Catriona Kennedy
Sr. Manager, Global Communications
By the Side of our Communities – West Wins the Pharma Industry Award for Corporate Social Responsibility Program of the Year
Nurturing a culture of philanthropy and community involvement is one of the defining characteristics of West. Team members around the world take their responsibility to give back very seriously, donating considerable time and resources to help create a healthier world. West without Borders, our team member-led giving programme, has raised millions of dollars since its inception in 2004 and the initiatives in Ireland were recently recognised at the Pharma Industry Awards for Corporate Social Responsibility Programme of the Year.
West without Borders- Ireland Initiatives
West has two manufacturing sites in Ireland, based in Dublin and Waterford. Despite the backdrop of the global pandemic, the last two years were very successful for the West without Borders teams raising a combined total of over €105,000 for Temple Street Children's Hospital and BUMBLEance, the Children's National Ambulance Service.
Temple Street Hospital and BUMBLEance are both charities that resonate with our team members as many have encountered the amazing work they do over the course of their children's lives. BUMBLEance, the official Children's National Ambulance Service of Ireland, provides safe and comfortable transportation for Ireland's youngest patients as they travel between their homes and hospitals, hospices, treatment centres, and respite centres nationwide.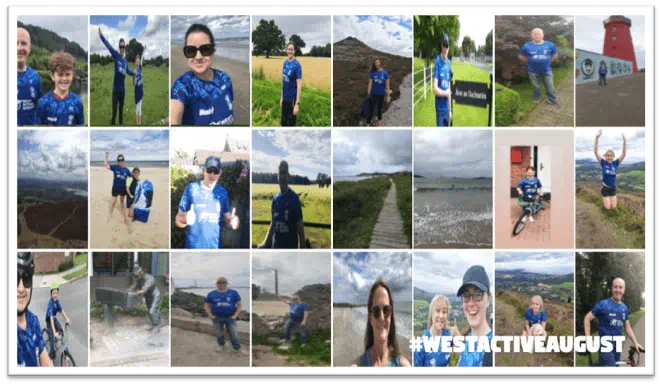 West Active August
Each West site has a dedicated charity committee, including a cross section of team members from the various functions and they are responsible for the West without Borders strategy - organising all the fundraising related activities and being the key interface with the charities. A calendar of events for the year ahead is set out in the first quarter of each year and these events include things like sponsored runs, cake sales, raffles, and virtual marathons. In 2020, the Dublin team came up with a new idea to overcome the challenge of social distancing by introducing the "West Active August" campaign, where individual team members get active during August to raise much needed funds. The target was 10,000 km in 10 days and each year the target was smashed, despite the many personal challenges being faced because of the pandemic.
Tom Clarke, Site Director, Dublin said, "Empowering our team members to support local communities helps foster a sense of meaning and pride in their roles at the company and gives them a chance to develop people skills, adaptability, and empathy, as part of being good citizens in their community. I applaud the tremendous work done to date by our teams in Dublin and Waterford".
Over the past nine years West Dublin has raised an amazing €376,000 for the renal unit at Temple St. Hospital and has funded dialysis machines, patient monitors, dialysis chairs, a multipurpose room in the recently opened Renal and Neurology Outpatient unit and more recently funded a Cubbie Booth for the Autism & Intellectual Disability Working Group. Commenting on the continued partnership, Denise Fitzgerald CEO of Children's Health Foundation Temple Street said: "Over the past nine years we have developed a brilliant partnership with the employees at West's Dublin facility. The tremendous work of the staff there to raise vital funds has helped us source cutting-edge equipment and diagnostics which saves children's lives every day. We are so grateful for the enthusiasm, hard work and sheer drive of the West team. It helps us ensure that the children of Ireland get the world-class care they need and deserve, and we look forward to this partnership continuing into the future."
More about BUMBLEance
Donations raised for BUMBLEance went towards sponsoring a vehicle that will service children within the South-East Region of Ireland, making trips to hospital for vital treatments more comfortable for our youngest patients, the vehicle was officially launched in July 2021. BUMBLEance had planned to set up a depot in Waterford that aimed to provide a dedicated service for children in the Southeast Region but unfortunately due to COVID-19 this was not feasible. However, as an alternative West's site in Waterford partnered with BUMBLEance by providing a permanent dedicated parking space on site equipped with electricity to ensure BUMBLEance can help children in the Southeast Region. In addition, as part of West Waterford's 'West without Borders' campaign, West and its team members have donated funds of over €50,000 to date to support BUMBLEance.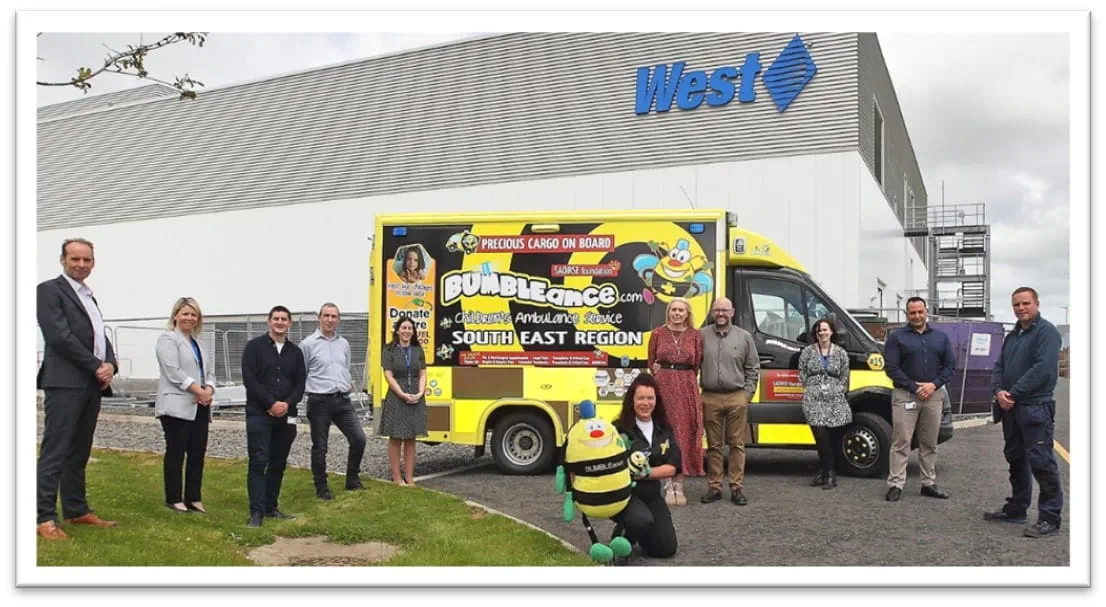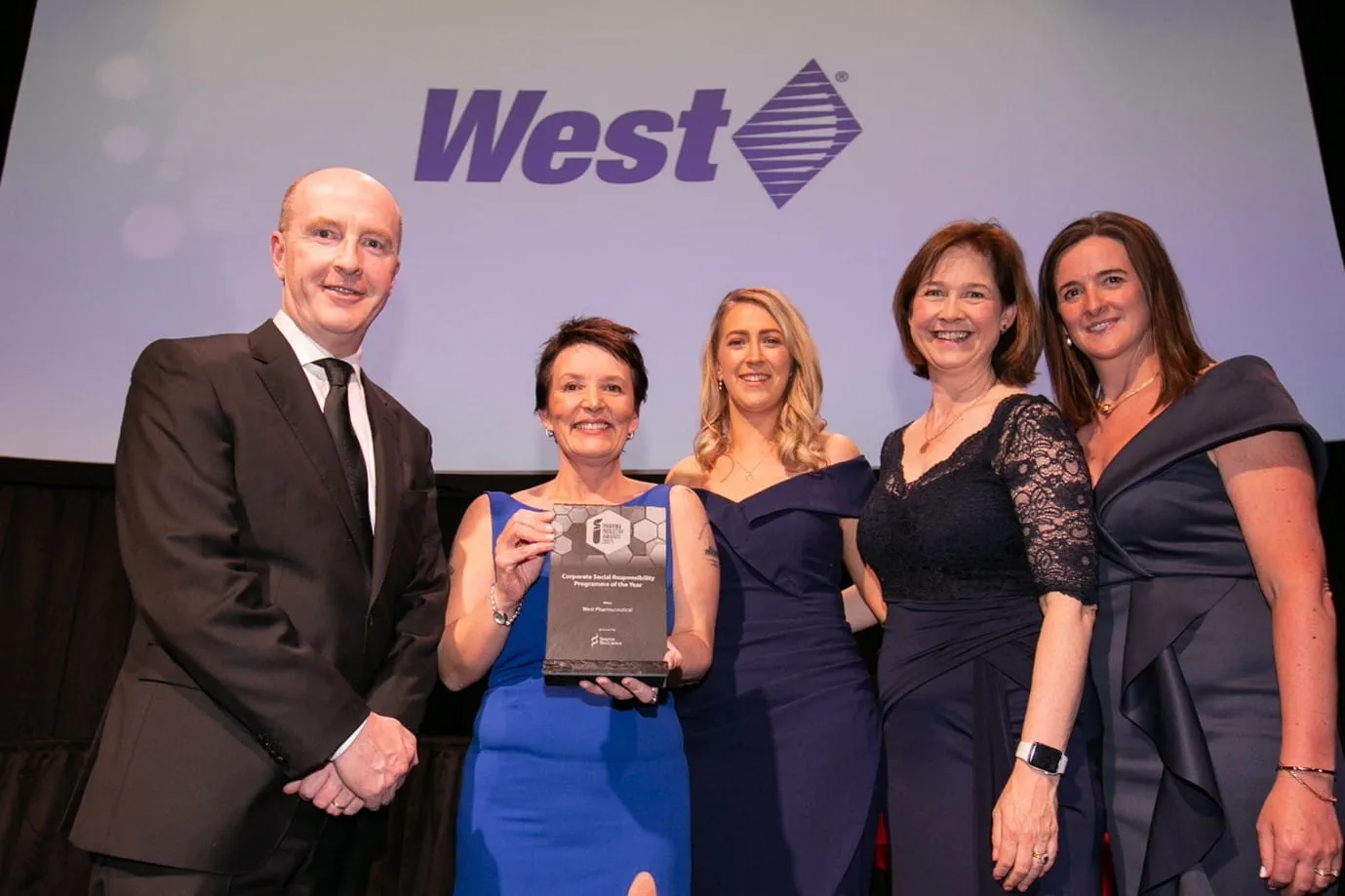 Corporate Social Responsibility at West
Corporate Social Responsibility is highly motivating for team members at West. Our CSR activities help improve team member morale and support the process of recruitment and retention due to the positive culture and environment that is generated as a result. Empowering our team members to lead CSR initiatives provides a sense of meaning and pride outside of their day-to-day roles within West. By working and volunteering together on fun initiatives our team members learn to work better together on important projects. The CSR opportunities give everyone a chance to develop new skills such as people skills, adaptability, and empathy, becoming more open minded and self-aware, as well as building partnerships, teamwork and questioning each other. These are all ingredients that contribute to the positive giving culture at West.
To learn more about Corporate Responsibility at West, please click here.