Michele Polinsky
VP, Corporate Communications
A spotlight on Bill West: "Starting at the top and working my way up"
West's turns 100 today! A milestone that we are very proud of, and something few companies have the opportunity to celebrate. In honor of our 100th anniversary we are spotlighting our former President, Bill West, son of our founder Herman O. West.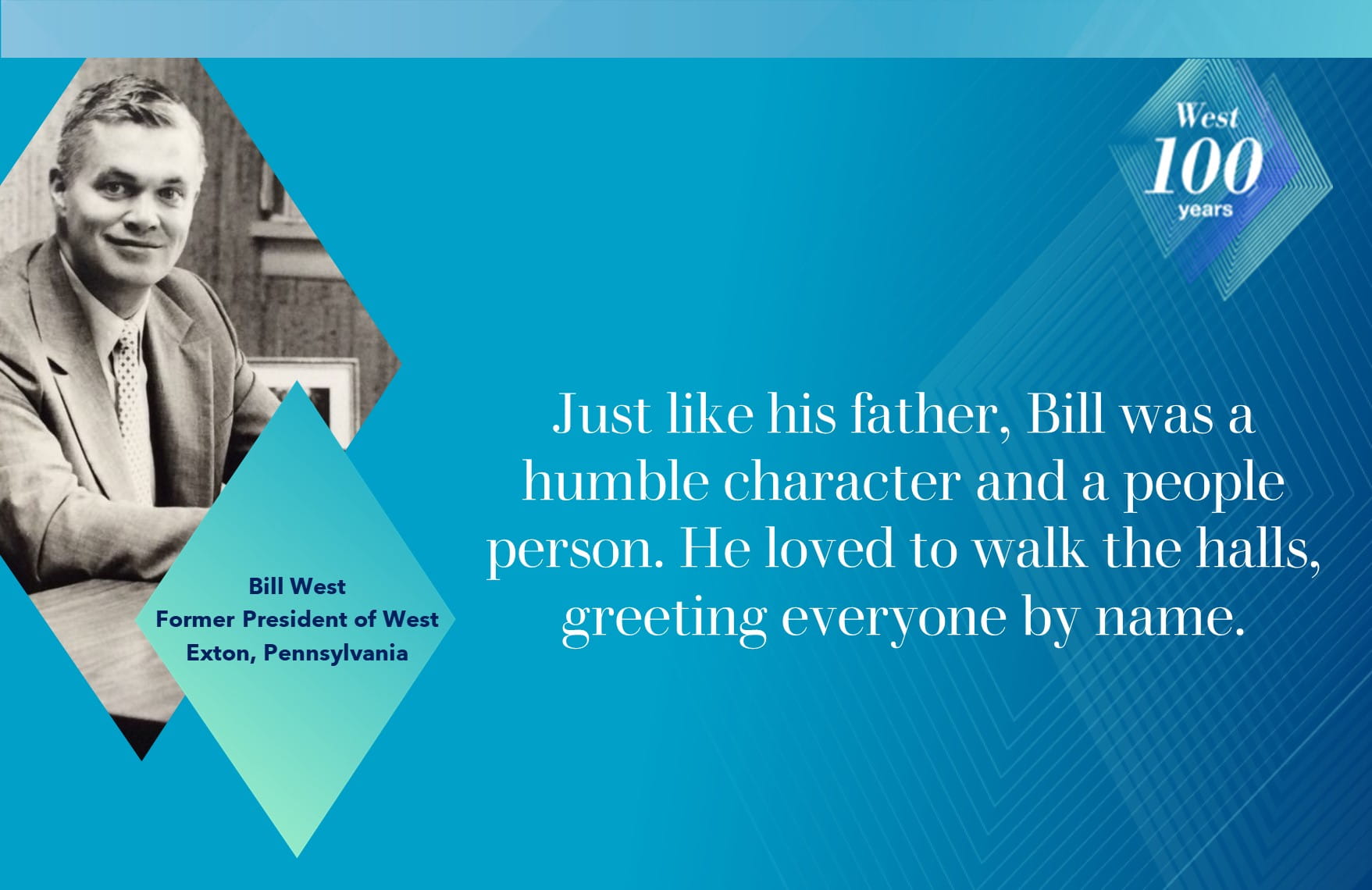 As H.O. West's son, it was a challenge for Bill West to prove he deserved his leadership role at West, but his father had taught him well. Bill cared deeply about the organization and worked hard. He understood how important it was to be a good leader and have a positive reputation with employees and for the business.
Making a name for himself
He approached each day of work with a well-kept secret. After every meeting he would speak detailed notes into a Dictaphone, asking his secretary to type the notes up and file them carefully. His infinite memory and ability to remember every little detail became famous. When all along he was reading and memorizing notes before he encountered somebody again. He was proud of the diligent file keeping and how much it helped him across his career.
His management style was different than today. If there was a decision to be made, Bill wanted everyone to agree. If someone didn't, Bill would listen to their reasons, sell the idea to them, or try to find a common ground. This was his consistent way and oftentimes this approach was troublesome. He could end up spending days or weeks trying to negotiate a decision. But he understood that as in a canoe, once you have everyone paddling in the right direction your performance is better.
A people person
Just like his father, Bill was a humble character and a people person. He loved to walk the halls, greeting everyone by name. When West grew so big that it was no longer possible for him to know something personal about every team member, he felt a deep sadness. Previously he had been able to ask about a family member, a hobby, or an interest. His sadness showed how much he cared about the people around him at West.
No matter how big West grew, Bill continued to be friendly and welcoming. He could often be heard asking people whether they'd "found the five-dollar bill yet?" a question he'd inherited from his father. He loved to hear people's ideas, to understand how they'd made the company a little better or saved some money.
Bill was never happier than when he was throwing wonderful parties at his home. They'd usually end up with a group standing round the piano. Bill playing whatever he wanted, all the grownups singing along. To him nothing was better than being in the middle of his friends, playing while they were singing and having a great time. His love of playing jazz piano was inspired by listening to Erroll Garner as a child. He could play any song in a songbook in Erroll's. Bill and his wife threw a huge party at their family home for West's 60th anniversary.
Turning 100
If Bill were still here today, he would be center stage at the 100th anniversary celebration. Playing his jazz piano, having a great time celebrating how far the West name has come. Often asking whether anyone had "found the five-dollar bill yet?"