West's Global Communications Team
FortSchritt extends a special thank you to West without Borders
West employees have forged a strong bond with many of the local organizations they support through the West without Borders fundraising initiative.
This is particularly the case with Fortschritt Städteregion Aachen e.V. Employees at the four West sites in Germany continued their relationship with this worthwhile organization in 2015 and raised €3,762 to help them finance special therapy furniture that was made in Hungary.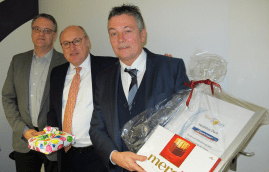 The commitment from employees didn't stop with financial support alone. Because they wanted to make sure that the furniture was delivered directly to the organization, West reached out to Hammer—an international transportation and logistics company—and secured free delivery of the furniture from Hungary to Stolberg, Germany.
In order to thank West and Hammer in person, FortSchritt invited representatives from both companies to its facility for a small reception on February 1. Heino Lennartz, Vice President and General Manager, Global Pharma, took the opportunity to present Wolfgang Tim Hammer, Chief Executive Officer, Hammer with a framed keepsake to underline their joint charitable efforts.
The visit also provided an opportunity for guests to attend a conductive education session, hear about the organization's many success stories, and meet its members. To learn more about West without Borders and the company's culture of giving, visit the West website.