---
Are You Protected Against Needle Stick Injuries?
Every day, healthcare workers are harmed by accidental needle sticks – worldwide over 2 million per year. It is estimated that only half of these incidents are reported1, 2. Most needle stick injuries occur during needle recapping (not recommended), or from improper syringe disposal. The trauma might be minor, but the effects – such as exposure to HIV – can be life-threatening. For many years, these injuries were an accepted occupational hazard, but no longer.
In 2000, the U.S. Congress enacted the Needlestick Safety and Prevention Act requiring healthcare facilities to maintain a log of percutaneous injuries from contaminated sharps and to document annually the consideration and implementation of appropriate commercially available medical devices designed to eliminate or minimize these injuries. In 2016, the World Health Organization (WHO) issued the WHO guideline on the use of safety-engineered syringes for intramuscular, intradermal and subcutaneous injections in health care settings.
With a focus on healthcare worker safety, West has developed a solution to help prevent needle stick injuries: the NovaGuard® SA Pro safety system – a single-use accessory for pre-filled ISO standard 1mL long staked-needle syringes3. After injection, depression of the plunger isolates the needle with the descent of a protective sleeve. This not only prevents needle stick injuries, but also prevents syringe re-use.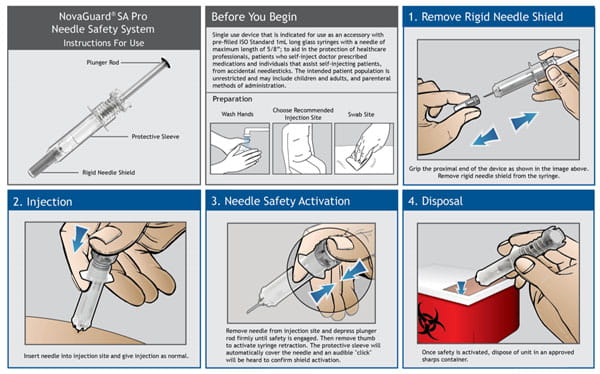 Laboratory and simulated clinical testing has been performed per ISO 239084 and FDA guidance5, with the NovaGuard® SA Pro safety system receiving FDA 510(k) clearance in February 2017 (K163511).
The NovaGuard SA Pro safety system is supplied as an assembly of three components: sleeve, syringe holder and spring. For regulatory submissions, West can provide the appropriate technical information.
Click here to learn more about the NovaGuard SA Pro safety system and contact us to speak to a Technical Customer Support representative.
1 Occupation Safety & Health Administration – OSHA
2 Laramie, AK; Davis, LK; Miner, C; Pun, VC; Laing, J; DeMaria, A (March 2012). "Sharps injuries among hospital workers in Massachusetts, 2010: findings from the Massachusetts Sharps Injury Surveillance System." Massachusetts Department of Public Health.
3 ISO 11040-4. Pre-filled syringes – glass barrels for injectables and sterilized subassembled syringes ready for filling.
4 ISO 23908. Sharps injury projection – requirements and test methods – sharps protection features for single-use hypodermic needles, introducers for catheters and needles used for blood sampling.
5 Medical devices with sharps injury prevention features (August 2005).