Sylvia Marzotko
Sr. Manager, Product Management, Vial Containment & Delivery
Minimize Microbial Contamination with Flip-Off® Seals
In recent years, regulatory guidelines such as The European Medicines Agency (EMA) Annex 1 "Manufacture of Sterile Medicinal Products" have influenced the requirements for the seal crimping processes. EMA Annex 1 specifies that the manufacturing of sterile products is subject to "special requirements in order to minimize risks of microbiological contamination." The EMA refers to two processes in fill-finish area of manufacturing plants performing aseptic filling: Aseptic Crimping and Clean Crimping. To ensure compliance, pharmaceutical manufacturers need to select the proper seal for each process.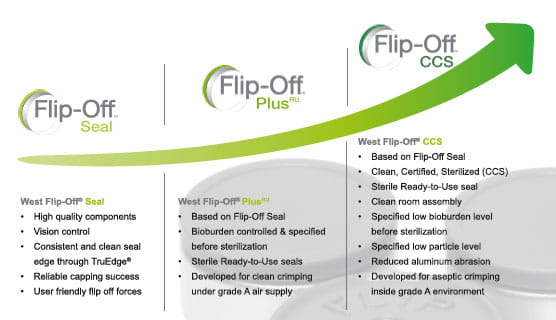 Aseptic Crimping
Sterile seals are required for the aseptic crimping process. Selection of a proper seal must reflect the current industry trend toward controlling particulate cleanliness, which means knowledge about particle specification limits may be requested.
West´s Flip-Off™ CCS (Clean, Certified, Sterilized) high-quality sterile seals are developed for aseptic crimping inside a grade A environment matching highest quality standards. FIip-Off™ CCS seal have a bioburden level specified before sterilization and a certified low particulate level. The seals are provided "ready to use" (RU) and are assembled in ISO 8 environment. In addition, Flip-Off™ CCS seals come with a coated aluminum shell for reduced aluminum abrasion, a washed Flip-Off™ button prior to assembly and a validated RU packaging concept.
Clean Crimping
In the clean crimping process, capping and crimping takes place in a non-aseptic environment under constant Grade A (Class 100/ISO 5) air supply. While the use of unsterile seals is not excluded by the EMA Annex 1, there is growing uncertainty regarding the introduction of potentially biological contaminated components into the clean crimping area.
Flip-Off™ PlusRU Seals meet the needs of biopharmaceutical and pharmaceutical companies performing clean crimping. These seals are manufactured to ensure a controlled bioburden level before sterilization, thus enabling clean crimping processes in accordance with the latest regulations and quality trends.
Choosing the right seal for your process can help meet regulatory challenges while achieving operational efficiency and safe container integrity – helping to ensure that your drug product reaches the market clean and safe.
For more information about Flip-Off™ seals, contact us today.
Flip Off® is a registered trademark of West Pharmaceutical Services, Inc., in the United States and other jurisdictions.