Caitlin Storbeck
Specialist, Global Communications
West Experts to Present on Performance Testing - June 18
What's the best strategy to create a holistic syringe-based combination product performance testing program? Start with the fundamentals - FDA Guidance Documents, ISO and USP considerations.
On June 18, at 11 a.m. ET, West experts Daniel Bantz and Jenifer Riter will present a free webinar as part of the Navigating the Changing Regulations series, "Demystifying Performance Testing: Strategies to Qualify Combination Products."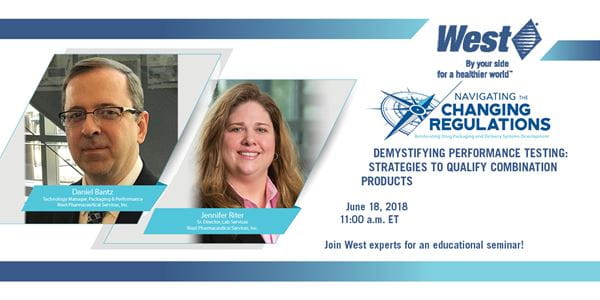 Jen and Daniel will explain how fit-for-purpose syringe-based combination products involve holistic consideration for:
Fundamentals of combination product performance testing
Materials compatibility
Patient safety
Attendees will learn how assessing product risks early and continuously is critical to help ensure successful product development and patient safety. In addition, Daniel and Jen will discuss FDA draft guidance: Technical Information … (ISO) Standard 11040-4, which was designed to ensure syringe connection integrity to reduce potential for patient harm, and how assessing product risks properly, early and continuously is critical to help ensure patient safety.
Register now and visit our Analytical Services web pages to learn more about Packaging and Device/Combination Product Testing.