Catriona Kennedy
Senior Manager, Corporate Communications
West is doing its part in Eschweiler to provide vaccination supply globally
Since our Eschweiler's site founding in 1960 as Pharma-Gummi, we have been helping to support our overall company mission to ensure the development and delivery of lifesaving, life-enhancing medicines for patients around the world. In the current COVID-19 pandemic, we have a special role to play: through these challenging times, vaccine developers have trusted West as a partner of choice to help protect their sensitive biomolecules. If you've ever been vaccinated, or if you or a loved one has ever needed to take an injected medicine, you've probably encountered a West product.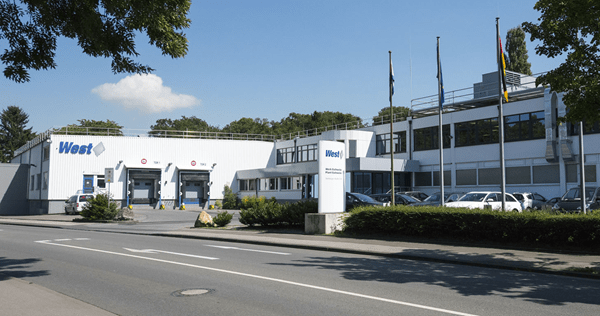 At our site in Eschweiler, West specializes in the manufacturing of elastomer products for the pharmaceutical industry and plays a critical role in delivering billions of components for the packaging and delivery of all types of injectable medicines – including vaccines. Our Eschweiler site is part of a global network of 25 manufacturing sites in Europe, the Americas and Asia Pacific. In Europe, the team in Eschweiler has worked closely with sites in Ireland, France and Serbia to supply millions of rubber vial stoppers to a dozen global customers that are being used to package over a billion vaccine doses in multi-dose vials, as a part of the COVID-19 vaccine program throughout 2021 and into 2022. We have also supplied many critical components needed for some of the diagnostic kit products used to detect COVID-19. This is an accomplishment for our entire global workforce that we could only manage through a One West Team effort. On this, Dominik Speen, Operational Excellence Manager, Europe says:
"I have always been aware that we make an important contribution to global health with our products for life-saving medicines. But the current situation especially shows how important our work is. It shows that our job is of great importance to society. It makes me proud that our efforts ensure that the vaccines get to the population quickly and safely."
The pandemic also had an impact on our business model and our day-to-day way of working. All major areas of the company were affected, including production, warehousing and logistics. From the beginning of this global pandemic, we had two priorities: firstly, to ensure the health and safety of our team members, and secondly, to ensure the reliable supply to our customers with the components that are critical to deliver medicines and vaccines. In this context, Dr Stephan Selke, VP Operations, Eschweiler and Managing Director of West Pharmaceuticals Services Deutschland GmbH & Co. KG (West) commented:
"In view of West's role and the importance of the company, 360 new team members were hired in Eschweiler over the last 18 months, and production was ramped up to 24 hours a day, seven days a week. Management and staff have managed to ensure the production process, taking into account sophisticated hygiene measures at the German sites. West has thus become a significant player in the global vaccination campaign. West continues to share the common values and social responsibility that the founder of Pharma-Gummi, Hans Wimmer, preached many years ago. We are proud to be at the forefront of the fight against the pandemic."
To further support the fight against the pandemic, we are looking for new team members who are seeking meaningful work so that together we can drive innovation in our sector and make our contribution to global health.
Join our team and visit our careers page regarding our job opportunities.