Keith Henderson
Mgr, Gl. Facility Engineering
A Team Member Perspective: Working together globally to reduce West's energy consumption and C02 emissions
I'm coming towards the end of my 19th year at West in May this year. Today, I am the Global Facility Energy Manager, working as part of the Global Facility Engineering team. Previously, I joined the West Dublin site as a Maintenance Technician and after two years I was promoted to Facilities and Maintenance Manager.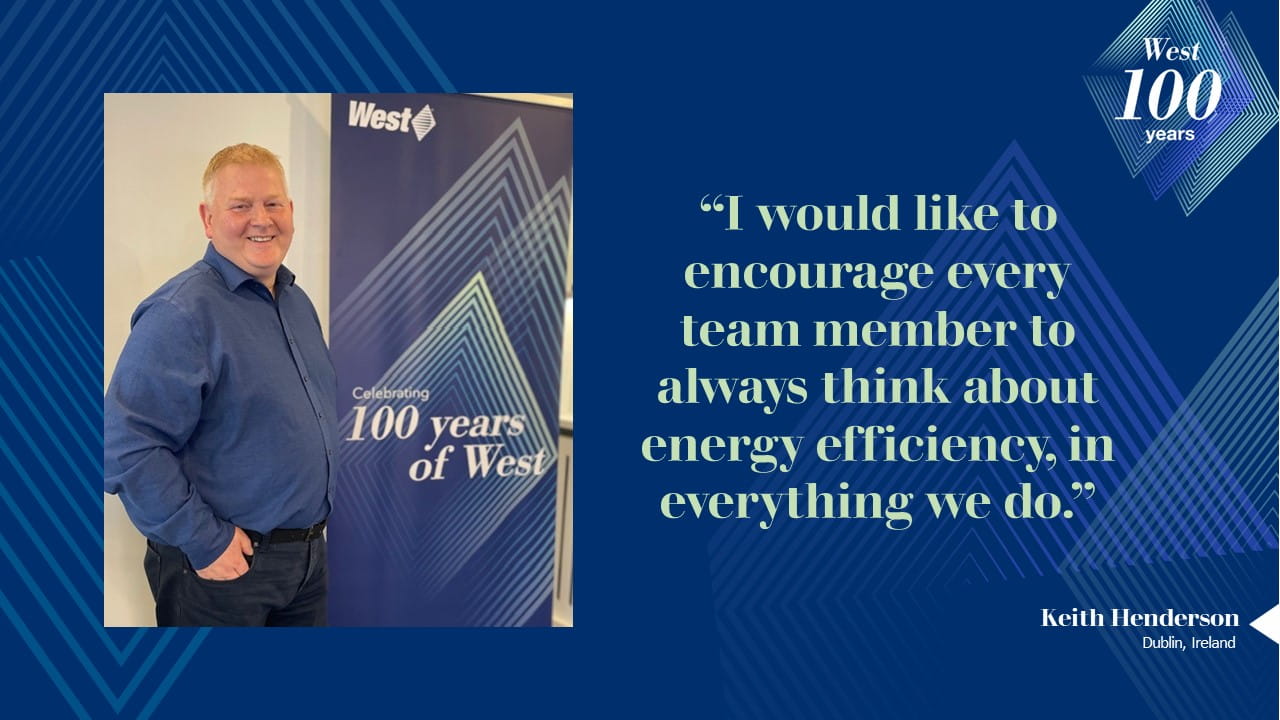 In 2019, West set two initial short term energy targets to be achieved by the end of 2023. To improve our overall energy efficiency by 15% and reduce our absolute CO2 emissions by 10% - both against a 2018 baseline. Having a global role, helping West achieve these targets is brilliant. I work with so many talented individuals all around the world. Their knowledge, experience, ideas, and dedication blow me away. On a day-to-day basis, I deal with more than 20 site energy owners, responsible for our energy consumption and efficiency across our global footprint. By looking at what's been successful on one site, I can make suggestions to the other sites about potential energy improvement. And it's working.
By the end of this year, we're expecting to have exceeded our energy efficiency target. We are also starting to make progress with reducing our CO2 emissions by procuring carbon-free electricity for several sites, initially in Europe, and then electrifying some of our heat loads away from natural gas to carbon-free electricity.
Moving towards net zero
By the end of 2023, phase 2 of our targets will begin, which will include science-based targets to continue the reduction of our CO2 emissions.
Over the past three years, West has invested $700 million at a global level for capacity expansions and additional facility improvements, and we are building energy efficiency into our thinking. We're developing processes to ensure we challenge site design from an energy perspective using Energy Efficient Design (EED) principles, without negatively impacting overall reliability.
A great example is the last energy project we completed at the Dublin site before I moved to my current global role, which involved replacing an existing air handling system in one of the manufacturing areas. Following on from the project implementation, we were audited and were delighted to become one of very few sites to be awarded EXEED Designed Certification for Excellence in Energy Efficient Design by the Sustainable Energy Authority of Ireland (SEAI).
West has always been seen as progressive within this field. Following the completion of an Energy Map course with the SEAI and due to the engagement we showed at West towards energy management, I was selected to speak at energy conferences on behalf of West and SEAI Energy Map, culminating in workshops at the SEAI Energy Awards Launch and Energy Show and then a presentation to around 250 people at the annual SEAI/IBEC conference, showing the journey the West Dublin site had taken in Energy Management.
The work we do is personal
The importance of the work we do on the Dublin site was really brought home when my daughter Becky was diagnosed with Type 1 Diabetes. She was 6. At that time, pretty much everything we were doing at the Dublin site was related to Diabetes care. We were making components for insulin pens, which Becky started to use very early into her diabetes care path. When she transitioned onto an automatic insulin pump, she used to do finger pricks every two hours. It was taking its toll on her fingers causing her pain. Doing finger pricks to check blood at school when friends are around is challenging for any young child.
Being part of the team for Building 2 design, construction, and implementation was a major milestone for me. This building was built specifically to produce the Freestyle Libre glucose monitoring device. Two months after the product was released in Ireland, my daughter started using the device. This was a real game changer in her diabetes care, with accurate continuous blood glucose levels and very little finger pricking. She's 17 in May this year, and diabetes technology has moved on very quickly in the last 11 years.
A sustainable future for us all
We're developing Energy, Water and Waste environmental strategies that should keep West in business for the next 100 years as we take the next steps in our journey towards Net Zero. The West building in Exton has just been approved to put solar panels on the roof and you can expect to see more and more of these types of projects because we won't get there on energy reduction alone.
I would like to encourage every team member to always think about energy efficiency, in everything we do. To always question, how can we reduce it as much as possible?
I've been focused on looking after the health of my daughter all these years. But producing all the great healthcare products that help her live a relatively trouble-free life with a life-threatening condition, will feel like it's for nothing it if there isn't going to be a safe, habitable world for her to continue to live in.
Visit our West 100 Anniversary page for more featured stories.