Milagro Lopez
Director, Product Management, Glass Systems
West Expands Collaboration with Corning® to Bring Sustainable and Performative Drug Delivery Solutions to Market
We know that performance, as well as sustainability, are equally important to our customers. For West, we are demonstrating our efforts in critical areas such as carbon neutrality, recycling and reuse of products, and secondary packaging. In addition to our own efforts, we collaborate with our customers and suppliers to solve these challenges, including alignment of Environment, Social, and Governance goals, and efficiency in operation.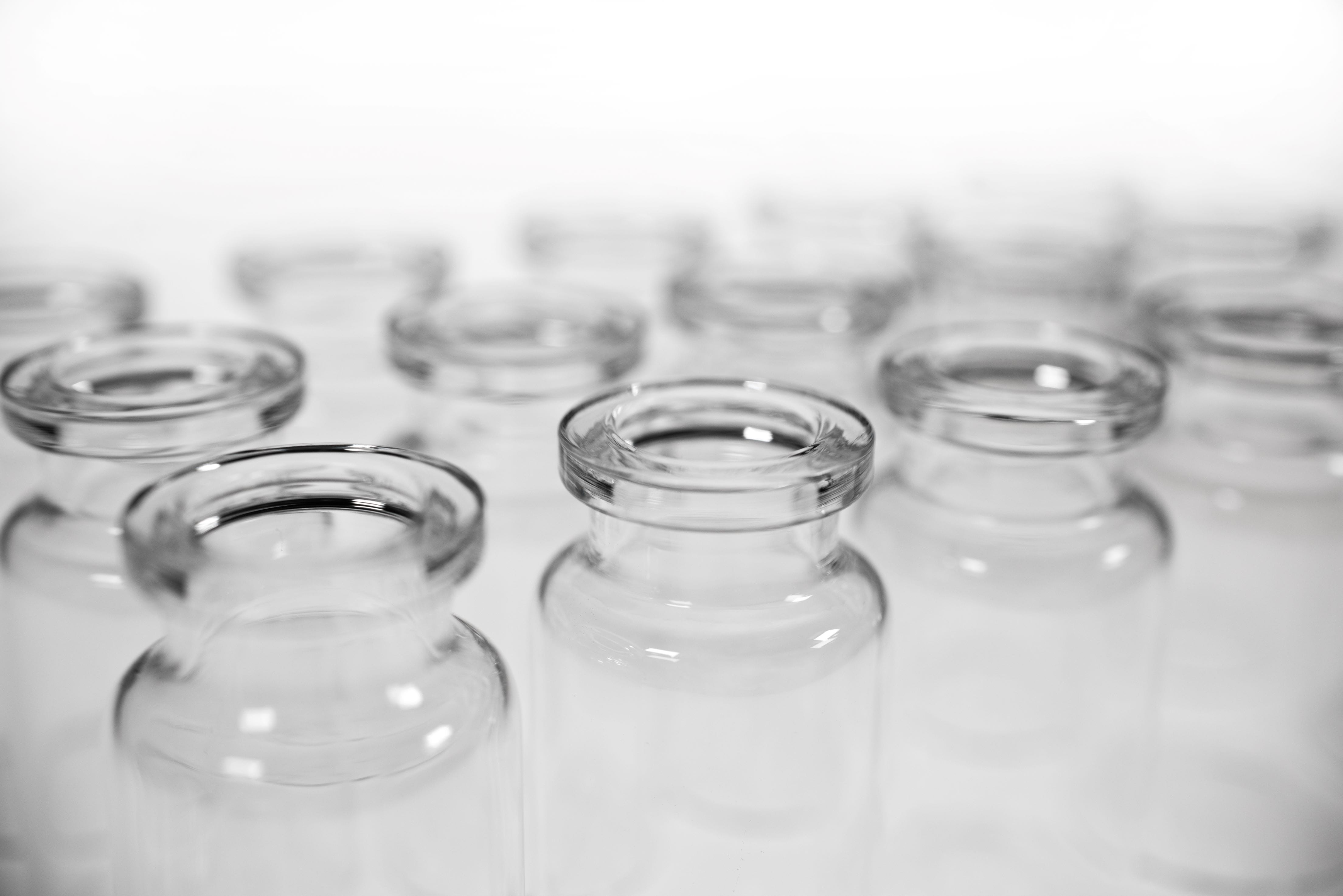 Through our collaboration with Corning Incorporated, West is excited to bring a product that provides both performance and sustainability to the healthcare industry, starting with the launch of Corning® Viridian™ Vials. Viridian™ Vials, externally coated Type 1 borosilicate vials, are a drop-in solution made with 20% less glass material, enabling up to a 30% reduction in Cradle to Gate, Scope 3 emissions.
Viridian Vials reduce glass waste and manufacturing emissions to deliver a more sustainable primary packaging choice. Less glass means less raw material extracted from the environment and less material waste at end-of-life usage. Viridian Vials have a positive impact on every stage of vial usage, from manufacturing to patient use. Corning's cutting-edge coating technology allows our customers to deliver medications safely and efficiently– for both patients and the planet.
Performance Focus
In collaboration with a leading manufacturer of fill-finish equipment, two vial types were tested: standard 2R borosilicate vials (4.4g) with a wall thickness of 1mm and 2ml Viridian Vials (3.5g) with a wall thickness of .7mm. These vials were run at filling line speeds of 450 vials per minute and recirculated >120 times, simulating >200,000 vials processed for each group.
The results showed no breakage observed in washing, depyrogenation, accumulation, singulation, or at the star wheels. Additionally, Viridian Vials exhibited a lower tip over rate compared to conventional vials. There were no functional issues observed with washing, depyrogenation, and there was no need for modification of the fill-finish line.1
Patented External Coating
Viridian Vials' low-friction external coating minimizes cracks, breaks, and cosmetic rejects while improving filling-line efficiency by up to 50% compared to conventional glass vials. Corning's external coating can also reduce glass particulates from fill-finish by up to 96%2, helping our customers increase drug yield production in a more sustainable manner.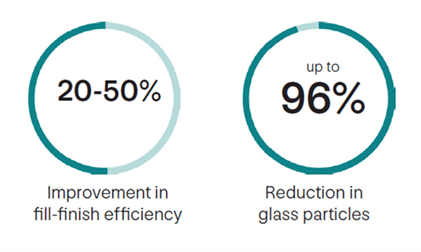 Sustainable Design
Viridian Vials use 20% less glass material than conventional glass vials. This reduction in glass material lowers manufacturing and transportation-related emissions by up to 30% and decreases the total amount of glass entering the waste stream.
By expanding the per-vial emission reduction to 10 million 2ml vials (considered a small volume for most commercial drugs), Viridian Vials could save up to 114,000 kg of CO2 emissions, which is equivalent to consuming >12,900 gallons of gasoline3.
Moreover, a 2ml Viridian Vial weighs 3.5g, compared to a conventional 2R that weighs 4.4g4. Considering the same consumption volume of 10 million vials, Viridian Vials would eliminate 9 tons of glass from going to landfill.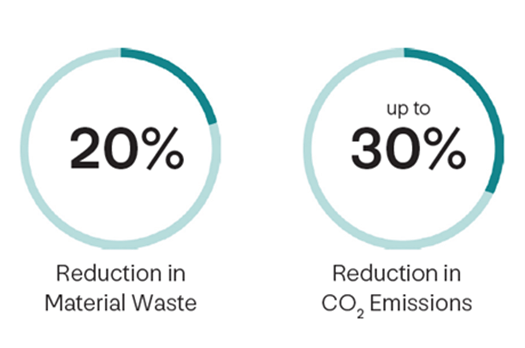 Drop-In Solution
Viridian Vials are an externally coated Type I borosilicate vials that can improve quality and boost filling line efficiency, helping our customers increase drug production in an environmentally friendly package.
The external dimensions of Viridian Vials are consistent with ISO standards and meet requirements for surface glass, glass grains, and surface etch. The vials are compatible with existing filling lines and corresponding container closure systems . Container closure integrity was demonstrated at room temperature and -80° C with standard stoppers and caps. The vials are also compatible for cold storage conditions, with Viridian Vials showing improved mechanical reliability over conventional vials at -40°C during internal testing.
Life Cycle Assessment
A life cycle assessment (LCA) is a comprehensive method of measuring environmental impacts associated with a product's life cycle. These impacts can include energy consumption, greenhouse gas (GHG) emissions, water usage, and waste generation. The assessment is performed by calculating the GHG emissions association with the product's life cycle. To assess the carbon footprint of Viridian Vials, all materials needed in the process for its production are considered, as well as electricity and other utilities in what is called a cradle- to – gate analysis. This LCA studies all the resources needed and emissions caused by raw material extraction (cradle), their processing and melting into glass tubing, final manufacturing into a vial, and final transportation (gate).
In its cradle-to-gate analysis, Viridian Vials reported a reduction in life cycle carbon emissions by up to 30%, The data and calculations for this claim were assessed and certified by Sphera, a third party contracted to conduct such analyzes. Data shows that even when compared to a conventional vial made with 100% renewable electricity, Viridian Vials can reduce emissions by 15%.
West is proud to be the exclusive distributor of Viridian Vial Technology. West is committed to using resources responsibly to help create a healthier, more sustainable world, as well as, working with our customers to find efficient packaging solutions for their drug molecules.
Contact West to learn more about Corning® Viridian™ Vials by clicking here.
References:
Corning® is a registered trademark and Viridian™ is a trademark of Corning Incorporated.