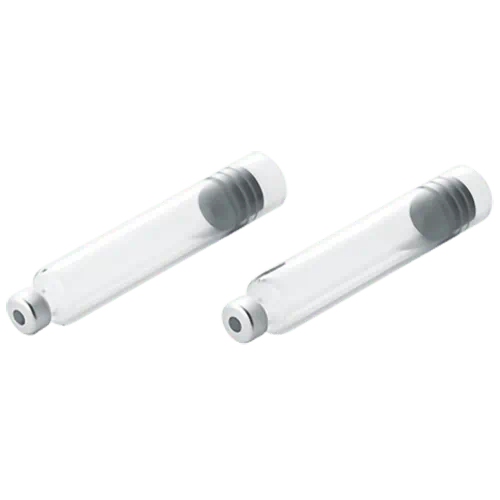 NovaPure® Cartridge Components
NovaPure components are developed and refined to provide the market with the highest levels of quality, performance, and product integrity. Every component, every time. Initially available in vial stoppers and syringe plungers, NovaPure components are being extended to cartridge-based drug delivery systems.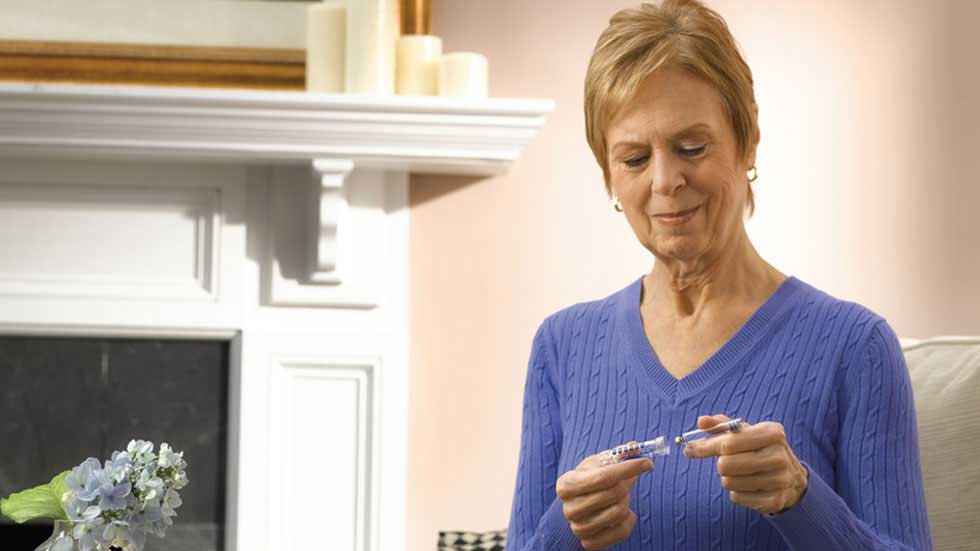 Developed for Performance, Consistency, and Quality
Ensuring in-depth product knowledge and understanding
Design and manufacture controls aimed to minimize intra and inter lot variation of key product attributes
Design control principles drive predictable component performance
Ideal for Drug Product Protection
Vision verification and continuous improvement drive quality
FluroTec® barrier film for enhanced drug product compatibility
Low particulate levels
Designed for Cartridge Based Device Delivery
Drugs delivered via cartridge technology are becoming more complex
Components compatible with 3mL glass cartridge systems intended for drug delivery devices
Optimized design for low hold up volume and improved break loose and glide force profiles
Product Attributes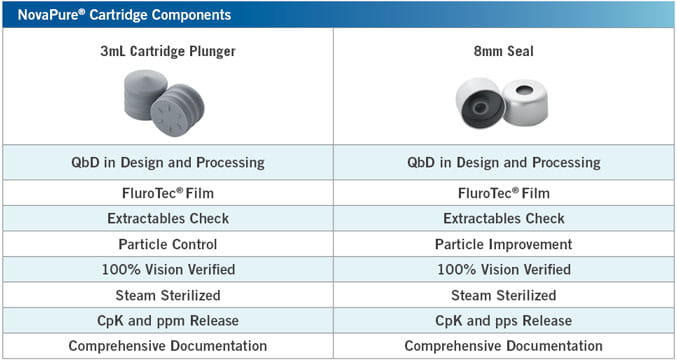 Packaging Options
West has done the work to ensure components are easily integrated into customers' manufacturing fill-finish operations. From concept to market, West is there by customers' sides, helping to meet the many packaging requirements for their components.
Small Volume:
Ideal for testing or sampling needs
Available products ship within 72 hours
Westar® washed, gamma or steam sterilized bag formats
Bulk Bags:
Ideal for traditional cleanroom filling lines
Applicable for use with restricted access barrier system (RABS) filling lines
Westar® washed, gamma or steam sterilized bag formats
Ported bags:
Designed for use with alpha-beta rapid transfer port (RTP) systems
Interlocking system designed to open only when both port doors are properly docked and integrated
Ideal for restricted access barrier system (RABS) and Isolator filling lines
Westar® washed or steam sterilized bag formats
NovaPure®, Westar® and FluroTec® are registered trademarks of West Pharmaceutical Services, Inc., in the United States and other jurisdictions.
FluroTec technology is licensed from Daikyo Seiko, Ltd.