West's Global Communications Team
Wests NovaPure Receives 2015 India Pharma Award for Outstanding Primary Packaging for Injectables
We are happy to announce that West received the 2015 India Pharma Award for Outstanding Primary Packaging for Injectables for our high-quality NovaPure® components. The award was presented to West during the CPhI India Pre-Connect Congress.
Organized by UBM India, the India Pharma Awards recognize innovation and excellence by pharmaceutical companies and related stakeholders operating in India. The Outstanding Primary Packaging for Injectables award honors products and initiatives that have enhanced packaging to fortify product integrity and improve efficiency. West's NovaPure components were recognized for their exceptional quality, cleanliness and reliability.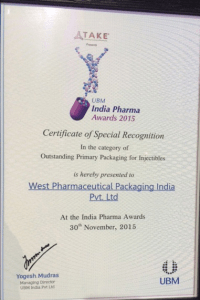 "We are honored to receive this award recognizing NovaPure components and West's ongoing commitment to quality," said Alagu Subramaniam, Country Manager & Director, West. "We work by the side of our pharmaceutical and biopharmaceutical customers to design and manufacture packaging and delivery systems that bring drugs from concept to the patient more efficiently, reliably and safely. NovaPure is a great example of this dedication."
West opened its first manufacturing facility in India in 2014 in response to growing demand for high-quality drug packaging and delivery systems from customers in India and the broader Asia Pacific region. As industry guidance regarding particulate matter is becoming increasingly stringent, these customers are seeking cleaner, more consistent packaging components that minimize risk and variability.
NovaPure components are created through a product development process that incorporates scientific Quality by Design (QbD) principles and puts the patient first. West's NovaPure offerings include serum and lyophilization stoppers and syringe plungers. These components help to mitigate the risks associated with particulates, including potential extractables and leachables, and help ensure that injectable drug products are safe for patients.
Located in India's Sri City Special Economic Zone, West's manufacturing plant produces components and seals used in primary packaging of injectable medicines manufactured by West's pharmaceutical and biopharmaceutical customers throughout Asia. As production shifts to the India plant, West's Singapore facility will add high-value product production to meet the future demands of the growing Asia market.
For more information about West's NovaPure components, please click here.