Marisa Leuzzi
Sr. Specialist, Corporate Communications
West Presented with Philadelphia Business Journal's 2019 Faces of Philanthropy Award
West is honored to be a recipient of the Philadelphia Business Journal's 2019 Faces of Philanthropy Award. The honor was presented to West at the Business Journal's Faces of Philanthropy Awards Breakfast on April 11, 2019 in Philadelphia, PA.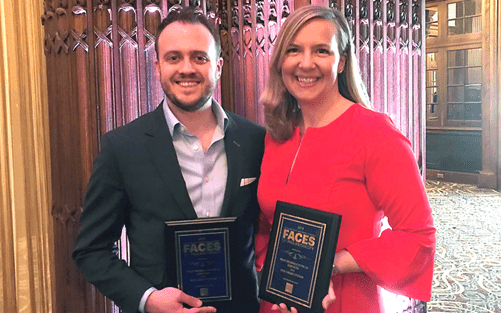 Organized by the Philadelphia Business Journal, the Faces of Philanthropy Awards recognizes Philadelphia based companies who, through philanthropic initiatives with a non-profit organization, have made a large impact on the Philadelphia community through monetary donations, social impact and community involvement. West's receipt of this award was a result of its support of Fox Chase Cancer Center, part of Temple University Health System, whom is committed to clinical excellence, research expertise, and community health.
"West's annual Fox Chase Campaign has been a highlight of our West without Borders employee-led fundraising effort," said Annette Favorite, West's Sr. Vice President and Chief Human Resources Officer. "We are extremely proud of our team members' ongoing commitment to Fox Chase Cancer Center, which has helped this important institution advance their mission to prevail over cancer, and has demonstrated our own Company's commitment to giving back to the communities in which we live and work."
"Our partnership with West Pharmaceutical Services is more than professional; it is personal. This is because cancer is personal," said Richard I. Fisher, MD, President and CEO of Fox Chase Cancer Center. "The people of West have joined with us for many years to advance cancer research and care through their work as well as through their financial support. Their contributions are evident at every level of their organization; truly, philanthropy is a part of their culture. We congratulate everyone at West for this well-deserved honor as they are recognized for their undeniable commitment to philanthropy."
West's culture of giving encompasses community support from corporate giving through West Pharmaceutical Services, Inc.; the Herman O. West Foundation, an independently managed 501(c)(3) entity; and West without Borders, a team member-led giving program. Since the inception of West without Borders in 2004, team members at West's more than 27 sites across the globe have raised and donated millions of dollars for a variety of charities located around the world through this and other programs. West's recent annual Global Food Drive resulted in Exton team members donating 6,500 lbs of food, which was recently delivered to the Chester County Food Bank, and over 65,000 lbs of food being donated to a variety of charities and food banks in the communities where West team members live and work across the globe.
For more information about West and our culture of giving, please visit the Our Culture of Giving page on our website.
West without Borders is not affiliated with Doctors Without Borders®, which is a registered service mark of Bureau International de Médecins San Frontières.