Marisa Leuzzi
Senior Specialist, Corporate Communications
West's Annual Food Drive Continues to Grow
Held this past February, West's fourth annual Global Food Drive was another incredible success with locations around the globe joining together to support the communities where we live and work.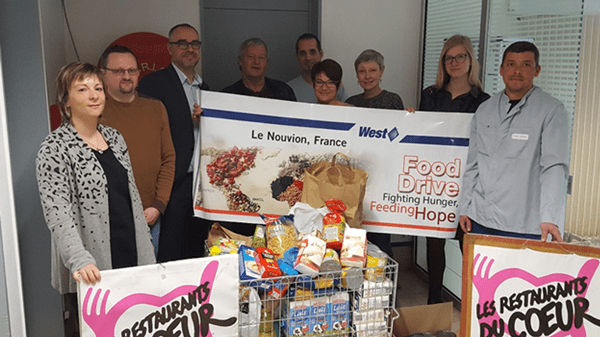 Our commitment to giving back was evident in the astounding 65,969 pounds of food that was collected in just two weeks. That's an impressive 9,000+ pounds more than we gathered last year to donate to local charities and food banks!
Our total results exceeded our goal of 5 pounds per team member. In total pounds collected, some of our standout performers were Singapore with 7,120 pounds and Brazil with the biggest year over year increase from 1,731 pounds in 2018 to 3,596 pounds in 2019. To date, we've collected and distributed 191,693 pounds globally in our first four years.
The food gathered during this drive was donated to more than 40 charities and food banks around the world to fight hunger by helping those in need. Some recipients of our donations included:
St. Mary's Food Bank Alliance
Singapore Children's Society
The Salvation Army
Eschweiler Tafel
Waterford Food Bank
And many more!
Together, we are making a difference in our communities thanks to our West locations around the globe whose efforts helped to make this record-breaking year possible. Learn more about our culture of giving here.