Valerie Bomberger
Director, Marketing Communications and Public Relations
West Stands by Your Side During Challenging Times
Our communities continue to face challenging circumstances related to COVID-19, and West is working hard to support our customers, our teams and our neighbors. Business as usual is changing, and we all struggle to understand what business as usual looks like now and what it means for each of us.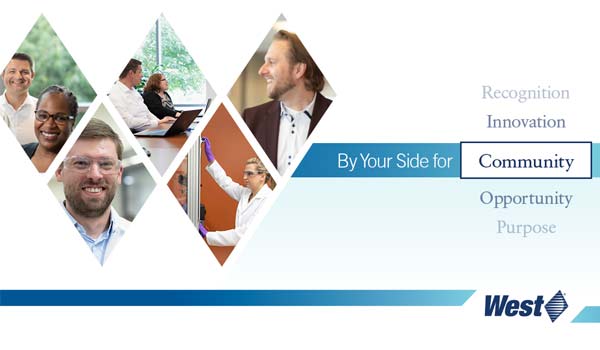 We know that people with underlying health concerns may have more challenges if they become infected. For these individuals, staying on their medicines is extremely important, which is why we're particularly proud of our teams for the important work they do to ensure our customers have a reliable supply of components critical to the drug containment and delivery systems that so many patients rely on to stay healthy. Our manufacturing teams are truly on the front lines of this crisis, and we are grateful to them.
Nurturing a culture of philanthropy and community involvement is one of the defining characteristics of our company, and we are proud to continue these efforts — safely —around the world. Many of our team members have offered their time, unique skills and knowledge in support of local COVID-19 response efforts.
Finally, we are grateful to all the members of our community, including medical professionals, law enforcement officers and first responders, who continue to go to work every day and risk their well-being so that we may feel safe, protected and cared for.
While things are changing rapidly in our communities and business operations, what hasn't changed is West's commitment to stand By Your Side.