Cindy Reiss-Clark
Sr. VP, Commercial Markets & Commercial Solutions
West's Commitment to Innovation Helps Customers Respond to Key Healthcare Market Trends
For the healthcare industry, the last decade has brought profound changes that continue to shape how drugs are discovered, developed and commercialized. At West, we pride ourselves on helping customers manage change by continuously delivering innovative products and services. Our company keeps close tabs on industry trends to anticipate unmet need in the market and, when appropriate, to disrupt existing value networks.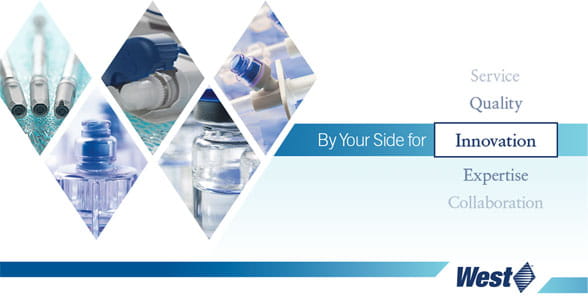 We met with customers at the recent JP Morgan Healthcare Conference in San Francisco, and shared the trends we see as critical drivers in the next few years:
Science Steers the Ship
The last decade is marked by significant advances in our understanding of diseases and how to treat them. Biotechnology has emerged as one of the most promising sources of therapies and products for patient care, and it's now commonplace to see FDA-approved drugs derived from biologics that include large-molecule proteins, peptides, monoclonal antibodies, liposomes, polymers, and molecularly engineered vaccines. Cell and gene therapies in particular have yielded a number of exciting options for difficult-to-treat diseases.
Research into the effectiveness of subcutaneous delivery of medicines versus intravenous has been another notable development. A number of clinical trials, especially with oncology medications, has demonstrated that subcutaneous administration is as effective as IV administration, while significantly reducing infusion-related reactions and administration time.
From Population to Person
Precision medicine seeks to understand how a person's genetics, environment, and lifestyle can help determine the best approach to prevent or treat disease.
Precision medicine is linked with a general movement toward patient centricity, which is defined as the process of designing a healthcare service or solution around the patient's specific needs. Taken to its final endpoint, patient centricity involves designing treatments for patients but also allowing patients to administer medications to themselves. Self-administration is driving other key industry developments, most notably the rise of combination products that place easy-to-use delivery systems in the hands of individual patients.
Reimbursement and Regulation
As these changes ripple across the industry, payers and regulators are responding. More direct evidence of the evolving regulatory landscape can be seen in recent activity related to combination products. Both the FDA and the European Union have introduced updated guidance on how such products are reviewed and approved for sale. As pharmaceutical manufacturers grapple to understand these regulatory changes, they are also working with payers to innovate how drugs are reimbursed. Value-based contracts are one such innovation. Under value-based contracts, biopharmaceutical manufacturers and payers agree to link coverage and reimbursement levels to a drug's effectiveness and/or how frequently it is used.
West By Your Side
Overwhelmingly, we have found that customers are looking to West for our scientific expertise and commitment to quality — capabilities and values that we value and that become more important in an industry that is rapidly evolving. West's broad expertise and offering, which includes both products and supporting services, becomes a true competitive advantage for our customers. We can help navigate the increasingly complex and challenging journey from molecule to market, mitigating risk, simplifying the supply chain and reducing time to market.