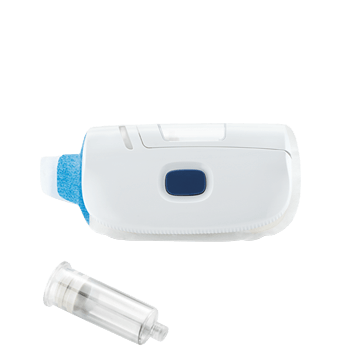 SmartDose® 10可穿戴式给药系统
Adaptive technology for large dose volumes
Advances in therapeutic proteins have helped to create new and more targeted drug products for a variety of issues. However, higher viscosities may not allow for conventional delivery due to the need for longer injection times to reduce patient discomfort. The SmartDose® 10 On-Body Delivery System (OBDS) consists of a battery-powered, wearable on-body injector with a separate, pre-fillable, polymer based cartridge that is filled with the drug product. The OBDS incorporates human factors and usability testing to deliver a truly patient-centric approach to self-administration. The SmartDose® 10 OBDS leverages the success of our SmartDose 3.5 OBDS. With a dose volume of up to 10mL, the SmartDose 10 OBDS can adapt to a variety of drug delivery needs.
Patient-Centric
User loaded, subcutaneous self-administration
Ability to deliver up to 10mL and a range of viscosities*
Easy to use, intuitive design
Intended for use by patients or caregivers in a non-healthcare environment or by healthcare professionals in a clinic setting
Visual and audible feedback to boost user confidence
* The SmartDose® On-Body Delivery System Platform has been designed with the potential for variations in functionality in several areas (e.g., potentially accommodate certain volumes and viscosities of drugs), and not all variations have yet been the subject of approved investigational or marketing applications
Flexible Technology
Formulation volumes up to 10mL
Address administration of a fixed dose of drug product from a prefilled container in a predetermined time
Continuous or pulsatile delivery modes
West's SmartDose® on-body injector platform is not independently cleared or approved by any Regulatory Body for general healthcare professional or patient use, nor is it available for general commercial purchase. Its distribution and use are subject to applicable regulatory requirements for clinical investigation, and for marketing authorization, as used in combination with a specific drug or biological product. Each component of a combination product is subject to the requirements established by the Regulatory Body for that component (drug, biologic or device). The regulatory process can be more complicated for combination products including an evaluation of the product characteristics, delivery system and its functionality, intended users and use environment(s), as well as the potential for undesirable interactions between the drug or biologic and the delivery system. As a result, we note that the SmartDose® on-body injector platform's compatibility with any particular drug or biologic must be confirmed, and its ability to achieve the desired patient benefits must also be confirmed, on a case-by-case basis in a manner sufficient to meet Regulatory Body requirements.
Additional Support
Onboarding and training solutions
Fill-finish offerings to simplify the path to market
Related Products


SmartDose® is a registered trademark of West Pharma. Services IL, Ltd., a subsidiary of West Pharmaceutical Services, Inc.
Flurotec® is a registered trademark of Daikyo Seiko, Ltd.
SelfDose™ is a trademark of West Pharmaceutical Services, Inc.
The logos above are the property of their respective owners and are used with permission.