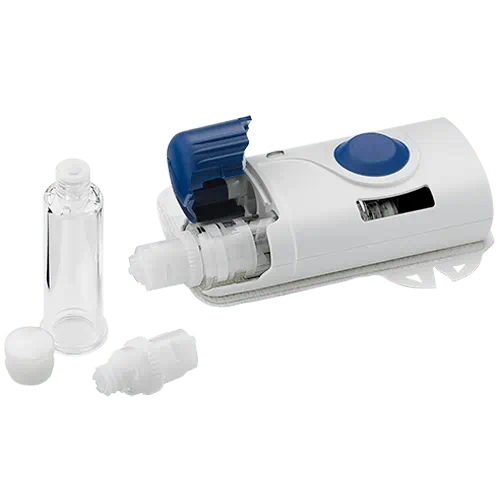 SmartDose® 3.5 Injector
Leading the way with integrated containment and delivery solutions
The first combination product that incorporates the SmartDose® 3.5 Injector has been approved by the U.S. Food and Drug Administration (FDA). The SmartDose injector offers a wearable, subcutaneous injector with an integrated drug delivery system that incorporates human factors and usability testing to deliver a truly patient-centric approach to self-administration.
Proud to support our partners with our SmartDose® technology:



Since 2010, West has invested in development of our SmartDose® technology scaling it to meet various application and delivery volume needs.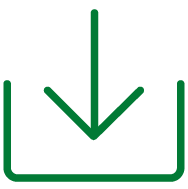 Patient-Centric Wearable Injector
User loaded, subcutaneous self-administration
Ability to deliver high volume and high viscosity drug products
Easy to use, intuitive design
Visual, tactile and audible feedback to boost user confidence
Training solutions available for a seamless onboarding experience
Flexible Technology
Address a variety of delivery times through adaptable, pre-programmable technology
Multiple published studies* indicate lower pain with customizable delivery rates
Regulatory, Quality and Human Factors expertise to support your development
*Dias, C., Abosaleem, B., Crispino, C., Gao, B. & Shaywitz, A. (2015). Tolerability of High-Volume Subcutaneous Injections of a Viscous Placebo Buffer: A Randomized, Crossover Study in Healthy Subjects. AAPS PharmSciTech. DOI: 10.1208/s12249-015-0288-y
Technical Specifications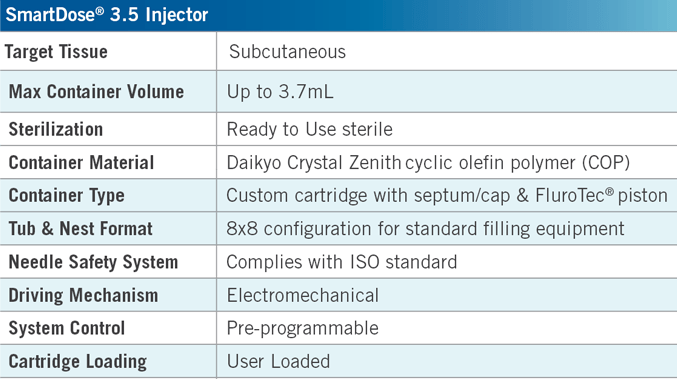 Related Products


SmartDose® is a registered trademark of West Pharma. Services IL, Ltd., a subsidiary of West Pharmaceutical Services, Inc.
Flurotec® is a registered trademark of Daikyo Seiko, Ltd.
SelfDose™ is a trademark of West Pharmaceutical Services, Inc.
The logos above are the property of their respective owners and are used with permission.