West Community Affairs
West Without Borders in Germany Supports Local Causes For Kids and Adults
There's nothing like a good old-fashioned bake sale to raise money for your favorite cause.
West employees from four German facilities (Stolberg, Eschweiler, Kiefernweg and Wuerselen) appealed to their colleagues taste buds and banded together to raise more than € 14,000 for two Aachen non-profits: Verein FortSchritt Städteregion Aachen e.V., which provides conductive therapy for children and young adults with conditions that affect motor function, such as multiple sclerosis and Parkinson's disease, and Zwischen Uns e.V., an organization founded to offer a place of employment to young adults with mental and physical disabilities. West is a long-time supporter of both organizations.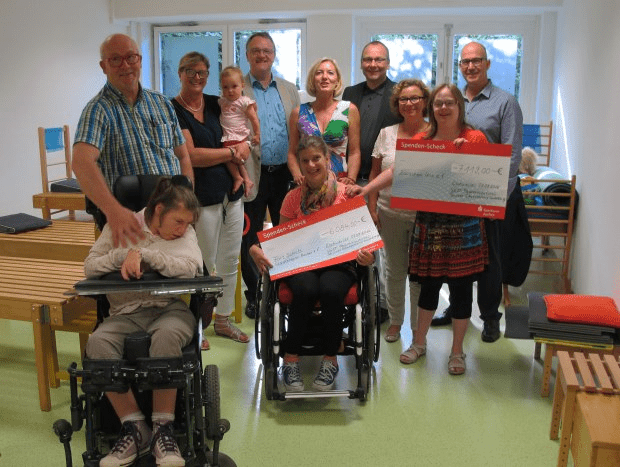 "Not only are we there for our customers, and ultimately for their patients, but we are also committed to supporting the community through our involvement with both of these important organizations," said Stephan Selke, Vice President, Finance, EU as he welcomed members of the non-profit associations to the West without Borders opening ceremony earlier this year. A closing ceremony, that included the check presentation took place in September.
Over a span of six weeks last May and June, numerous events at the West offices and plants featured homemade delicacies sold in support of local organizations that are making a difference in the community. At FortSchritt, the financial support from the bake sales, along with additional West employee volunteer hours, helped finish a new therapy room for four kindergarten children and eight teens and young adults in time for the first week of school. Niessen Carpenters, a long time business partner of West, also contributed to the effort by making a special base cabinet for the therapy room.
At Zwischen Uns, West fundraising helped support installation of a sunshade in its community garden, which not only protects the area from excessive sun but also doubles as rain protection. Additionally, a newly rented apartment made possible by West employees' support will be used for painting in small groups, and also for collaborative projects with other artists from the Parzival School in Aachen and the art workshop of the Lebenshilfe association.
This is just one of the many global West without Borders campaigns. West Without Borders is the Company's annual employee-led fundraising campaign that supports communities where our employees live and work. To learn more about our employees' efforts to give back to the community through a variety of important initiatives, please click here.
West without Borders is not affiliated with Doctors Without Borders®, which is a registered service mark of Bureau International de Medecins San Frontieres.