---
When Silicone Oil Is Not an Option
Silicone oil is commonly used as a lubricant to facilitate plunger movement in glass syringes. It is well known that silicone oil can lead to the presence of subvisible particles in a drug product, and in the case of a protein-based drug product, might induce aggregates that diminish performance, or worse, induce immunogenicity.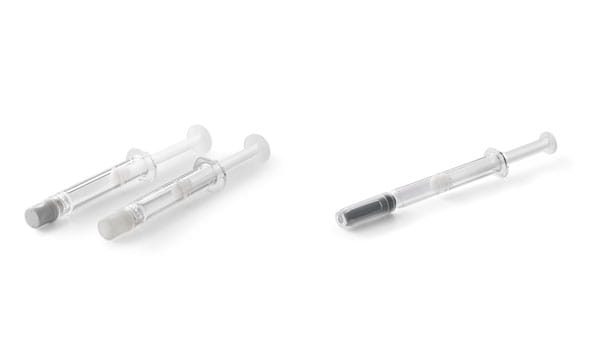 Silicone poses another risk; it has been observed that silicone oil can actually infiltrate the patient during injection. This is especially problematic for ophthalmologic applications. Injections into the eye demand careful and precise application; a smooth and consistent delivery force profile is essential.
For an intravitreal injection, a small volume is typical, e.g., 50 µl. The maximum safe volume to inject without prior fluid removal is ~ 100-200 µl. Larger injection volumes are uncommon, with two exceptions: the injection of gas for pneumatic retinopexy and the injection of multiple intravitreal agents in one session. The question becomes how to achieve smooth/consistent delivery force without use of silicone oil.
West has an answer – a Daikyo Crystal Zenith® 0.5 ml Luer-Lock syringe system coupled with a FluroTec® plunger. The Daikyo Crystal Zenith® syringe is composed of a cyclic olefin polymer (COP) – having a very low surface energy. The FluroTec® plunger is laminated with a fluorpolymer film. The plunger moves easily and consistently in the syringe (minimal friction between fluoropolymer and COP) – without the use of silicone oil. The Daikyo Crystal Zenith® syringe is the only silicone-oil-free system with this key additional benefit – the fluoropolymer film protects the drug product from potential interaction with the elastomer comprising the plunger – reducing risk of leachables from plunger, and reducing risk of absorption of drug product by plunger.
For more information about this, or other injectable solutions from West, visit our website or contact your Technical Customer Service representative.
Daikyo Crystal Zenith® is a registered trademark of Daikyo Seiko, Ltd.
Daikyo Crystal Zenith and FluroTec technologies are licensed from Daikyo Seiko, Ltd.