This week, during a ribbon cutting ceremony that included executive leadership and invited guests, West announced the completion of a 60,000 square foot expansion at our contract manufacturing facility in Dublin, Ireland. The expansion is in response to customer demand for medical device manufacturing—especially in the area of diabetes.
Government officials, including Mary Mitchell O'Connor TD, Minister for Jobs, Enterprise and Innovation; Leo Varadkar, the Minister for Social Protection; and Barry Heavy, the Head of Life Sciences, Irish Development Agency; were all on hand to celebrate West's most recent investment in Ireland, which strongly aligns with the Government's ongoing strategy to attract investment in high-quality, high-value, medical device manufacturing. As a result of the expansion, it is anticipated that 100 new jobs will be added to the business over the next five years.
During the event, West also announced that the contract manufacturing business—formerly known as The Tech Group—will now align with the West brand and do business as "West." This transition reflects the significance of contract manufacturing in West's long-term strategy as a leader in integrated packaging and delivery for injectable medicines.
The nearly 350 employees currently working in Dublin are passionate about the important role they play in delivering healthcare and equally as passionate about giving back to the community. For the past five years, the team in Dublin has supported the Temple Street Children's University Hospital, one of Ireland's largest children's hospitals. This year employees helped raise more than 25,000 euros. To recognize this impressive, local fundraising effort, West presented the Temple Street Foundation with a corporate matching gift of 25,000 euros during the ceremony on November 30.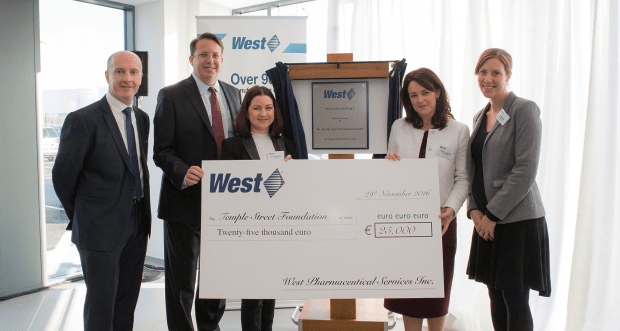 West looks forward to strengthening our presence in Ireland with the expansion in Dublin as well as the development of our center of excellence for elastomeric sheeting and injectable component product lines in Waterford. The Waterford plant is expected to begin full commercial operations in 2018.