Whitney Winters
Sr. Director, Strategic Marketing, Containment Systems
SARS-CoV-2 Vaccines – Alternative Vial Components
The need to provide vaccines for the SARS-CoV-2 pandemic has presented the pharmaceutical industry with unprecedented challenges. Among them are accelerated timelines for development/approval and unanticipated volumes for manufacture/delivery. Ordinarily for a new drug product, there is ample time for selecting the primary package system and establishing component availability.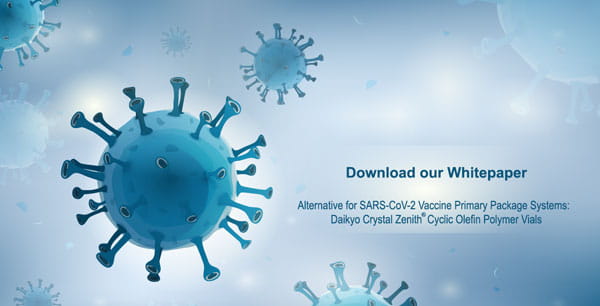 This is not the case for SARS-CoV-2 vaccines, so to quickly meet expected demands, risks must be minimized in every aspect. One of these aspects is availability of package system components, in particular vials. Traditionally, glass vials are used for vaccines; however, the unanticipated volume demand creates the risk of shortages.
To minimize this risk, an alternative is needed. This is addressed in a new report by West scientists: Alternative for SARS-CoV-2 Vaccine Primary Package Systems: Daikyo Crystal Zenith® Cyclic Olefin Polymer Vials. These vials have excellent performance features:
Low levels of extractables
Low levels of interaction with drug products
Very good resistance to breakage
Quantified permeability of oxygen and carbon dioxide including cryogenic temperature
Approved world-wide for many types of drug products: monoclonal antibodies, proteins, peptides, small molecules, and gene therapies.
In short, Daikyo Crystal Zenith vials potentially are an excellent alternative to glass vials. With West data and support, provided by the Integrated Solutions program, an assessment can be made to determine if a package system based on these vials can meet the requirements of any of the various vaccine platforms under consideration. For more, contact an account manager or Technical Customer Service (TCS) representative.
Download the new whitepaper by clicking the button below:

FluroTec® is a registered trademark of West Pharmaceutical Services, Inc., in the United States and other jurisdictions.
FluroTec® technology is licensed from Daikyo Seiko, Ltd.
Crystal Zenith® is a registered trademark of Daikyo Seiko, Ltd.
Daikyo Crystal Zenith® technology is licensed from Daikyo Seiko, Ltd.