West Community Affairs
Raising Hope for Canine Partners for Life
The purpose of a service dog is to assist and bring joy to someone's life. To train a service dog is a massive undertaking, with the first year of that training coming in the form of "puppy-in-training." West volunteers have had the privilege of sharing in the raising of three puppies in training as part of its ongoing commitment to Canine Partners for Life, an organization dedicated to placing service dogs. The most recent of those is an adorable black lab named Cret.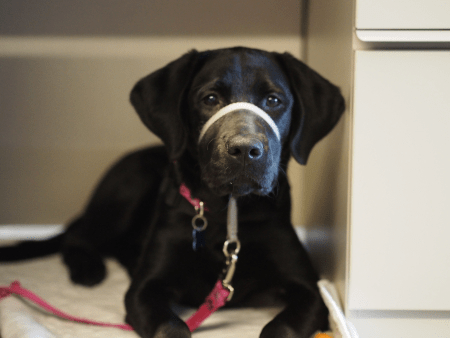 "She's really a joy to have at West," said Diane Behler, who along with sister and fellow executive assistant Sandy Anastasi, has raised Cret from the time she was 8-weeks old. "West team members really like Cret, and there are a couple who want to take her home. It lifts the spirits to see her walking around, and she provides great fuzz therapy!"
The role of raising a puppy is not easy, and it's certainly not for everyone. The dogs must stay close to their trainers at all times. Wherever the volunteer trainer goes, the dog follows, and the volunteer's focus must be on the dog at all times.
"Cret knows that when the jacket is on, she's working and at home when the jacket comes off, she gets to be a rambunctious puppy," said Diane. One of the responsibilities of a puppy raiser is to assure the dog has varied and interesting experiences and attends puppy training classes twice a month. "Cret goes with me to work, grocery stores, shopping, restaurants and church, just to name a few. It's the day-to-day routines and activities that are important for Cret and all service dogs. She learns patience and discipline and routine – all things she will need when she becomes part of a team."
Many ask about the emotional toll of raising a puppy-in-training, who will one day leave Diane and Sandy to train at the CPL kennel before being placed as a full-service dog. For Diane, it was the love of dogs and desire to help enrich someone's life that impelled her to volunteer.
"The dog is not yours, and while you try not to get too attached, it's hard not to fall in love," said Sandy. "You know she will leave one day, but when Cret is placed with a recipient, the sacrifice will be paid back with pride and joy in what dog and trainer have accomplished for someone else's good."
CPL is in need of puppy-in-training homes for the more than 60 puppies it currently has in its program, with more on the way to help keep up with requests for the dogs. Additional volunteer opportunities include temporary puppy home, dog walker and cuddler for the pups in the kennel.
If you would like to volunteer, contact CPL today at http://www.k94life.org.