West Community Affairs
Charity Under the Big Top – West's Kinston Team Delivers With Circus Theme
Come one, come all to the 2014 West without Borders campaign! From preliminary planning to the final one-ring circus, the 2014 West without Borders campaign in Kinston, N.C., was a whole lot of clowning around in the name of a good cause. This year, Kinston team members supported three charities: Relay for Life Kids' Walk, Kid's Cafe and Shriners' Hospital for Children's Transportation Fund.
The fun began with a raffle for a massive Valentine's Day basket of goodies, and rolled on when the charities were selected.
As a sponsor of Relay for Life's Lenoir County Kid's Walk, West team members helped to place a strong focus on the many children diagnosed with cancer each year. The Kid's Cafe Afterschool Program provides nutritional meals as well as mentoring, tutoring, arts and crafts, and physical activities to needy children ages 5-14 in Lenoir County. Team members continue to collect books to help enrich the program's sparse library.
In supporting the Transportation Fund for Shriners' Children's Hospital, the group helped provide transportation through the "Roadrunner" program, which zips patients from eastern North Carolina to the hospital in Greenville, S.C. More than 35 drivers donate their free time to transport patients and their parents safely.
With a goal to raise $14,000 this year, the games began with meetings, celebrations, clowning around and a circus-themed picnic with prizes, food and fun for adults and children alike. Thanks to the generosity of the team members, more than $20,000 was raised!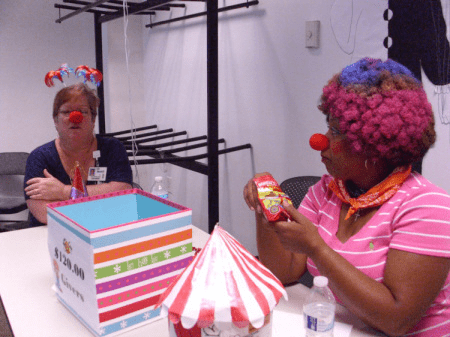 To all those who offered time, donations and fun to this wonderful campaign, thank you!
West without Borders is not affiliated with Doctors Without Borders®, which is a registered service mark of Bureau International de Médecins Sans Frontières.