West Community Affairs
The Continuing Story of a Company that has Gone to the Dogs…
It's been more than four years since the halls of West's headquarters saw its first four-legged visitor, the sweet and lovable Canine Partners for Life puppy-in-training Dookie. Since then, Friend, Star, Cret, Journey, Digger, Muzzy and a host of others have filled the halls with warm brown eyes and wagging tails.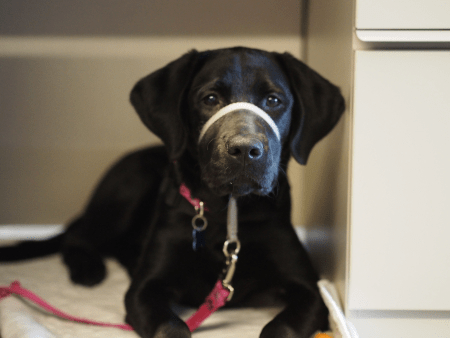 The continued presence of the service dogs at West has helped to create a few happy "tales" of our own.
In 2010, Exton team members were introduced to Canine Partners for Life (CPL), an organization that trains service dogs for a variety of reasons, including seizure alert and mobility aids. As part of that year's West without Borders campaign, Carol Cully, manager, database development, signed up as a puppy home, and Dookie joined the West ranks, followed by Friend in 2012 and Cret in 2013.
At the same time, volunteers, including executive assistants Janet Cooper and Diane Behler, offered to help with the charity. The options for volunteers are varied and include dog walking, cuddling, bathing the dogs and providing weekend homes for the kennel pups. Janet took on the responsibility of a temporary puppy home, and later embraced the CPL program by bringing breeder dog Journey into her home. She joined the Board at CPL this past spring.
Said Janet, "I feel passionate about the mission of CPL and I wanted to do more. As a board member, I am part of shaping the direction of CPL at a very exciting time."
CPL just started an $8 million capital campaign to build a new training facility and expand its offices. The organization will also celebrate its 25th anniversary next year. During that time CPL has placed more than 350 service dogs and currently has 66 puppies in the puppy raising program, including Cret, who is handled by Diane Behler and her sister, Sandy Anastasi, who is also an executive assistant at West.
"Cret is a fast learner and everyone loves her here at West," said Diane, who has been raising Cret for nearly one year and attending puppy classes with her. Diane and Sandi also brought several of the CPL pups into their home on a temporary basis. This helps out another puppy raiser while on vacation.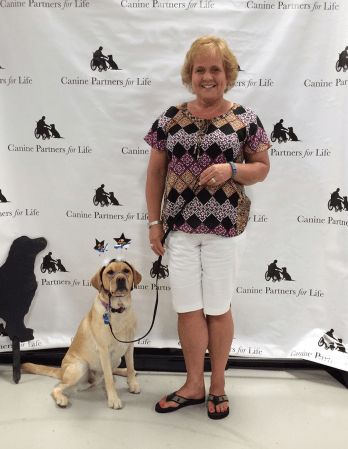 Among Cret's many capabilities, which include heeling, a variety of obedience tasks and helping her trainer rise from a seated position on the floor, is the ability to bring peace and calm to the many West employees she contacts.
Said Diane, "I've had a few people ask to pet her just to help make the day better."
It's a sentiment shared by those who not only come in contact with the pups, but who help raise them. Journey's initial training occurred in prison, and Cret has spent some time behind bars as well.
"The prison program is a remarkable way for CPL to train the pups in obedience and socialization," said Janet. "It's a great program for the prisoners as well because it brings a touch of humanity into a very sterile environment."
Currently more than 40 puppies are part of the prison program, which was featured in an edition of the Chestnut Hill Local, where CPL executive director Darlene Sullivan was quoted as saying, "Having this program in place has helped us immeasurably in creating a pool of highly trained service dogs to meet the increasing numbers of CPL applicants."
Recently, 12 puppies in training graduated to full-service dogs. The now nearly 2-year-old pooches included seizure alert and mobility aid dogs, and the organization's first-ever placement of a diabetes alert dog. Conditions for those accepting the dogs range from fibromyalgia, muscular dystrophy and cerebral palsy to narcolepsy, epilepsy and a rare condition called spinal muscular atrophy.
While the graduates are a proven success for those who need them, dogs like Journey, or those who may not make the final cut to full service, find other occupations, including as therapy dogs and home companions for children suffering from autism, which is where the West-named "Star" found her calling. Journey currently serves as a therapy dog in the Paws for People program, and visits Friends' Home in Kennet Square to spread some joy.
"West's continued efforts since 2010 have been tremendous," said Janet. "We're really lucky that the company supports the charities that the employees feel passionate about. CPL is my passion but there are so many more. To have the executives' continued support, and the encouragement of our coworkers is absolutely wonderful."
For more information about CPL please visit their website: http://k94life.org/
West without Borders is not affiliated with Doctors Without Borders®, which is a registered service mark of Bureau International de Médecins Sans Frontières.