Global Communications
West Receives Johnson & Johnson Supplier Award
West Pharmaceutical Services team members performed especially well this year for the Janssen Supply Chain Global Procurement Organization (a part of the Johnson & Johnson group of companies), which recently presented the team with the bronze Supplier Award. The award was presented during a ceremony at the J&J facility in Turnhout, Belgium, on May 7.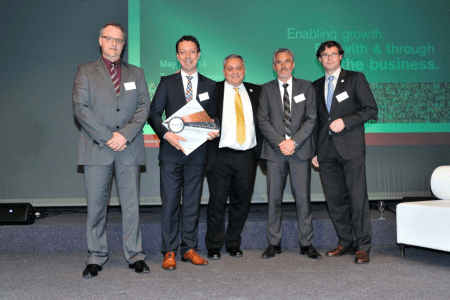 "West is proud and happy to have earned the award," said Patrick Radermacher, Area Sales Manager. "A big 'thank you' goes out to all of our colleagues who have been part of this process directly and indirectly."
The award is presented to suppliers who have performed particularly well during the previous year. The ceremony also allows J&J to connect with its suppliers and discover achievements and expectations in a relaxed atmosphere.
Congratulations to all those whose diligent work helped West achieve this award!