West Community Affairs
West without Borders 2014: Pulling One String for a Charitable Cause
This year not only marks the 10th anniversary of our West without Borders tradition, but has added a new dimension to the principle of giving. All four West locations in Germany set out to demonstrate their social commitment while hosting a variety of activities in support of a local not-for-profit organization. Thanks to the great efforts of all involved, we were able to generate the record sum of €20,426.27.
West Germany selected the organization FortSchritt as the beneficiary of this year's charitable campaign. West's prior donation in 2012 enabled the organization to move into their own premises and hire a conductor to offer conductive therapy in the community. Fifteen children and young adults in groups of six currently benefit from this comprehensive education that touches upon every aspect of a child's development. In a series of mobility tasks, children learn how to master their daily routine such as getting dressed or going to the toilet. The group setting offers a motivating and supportive environment where individuals are encouraged to reach their personal goals at their own pace. The results speak for themselves. Wheelchair bound children can move around with the help of a walker and even toddlers can improve their playing skills.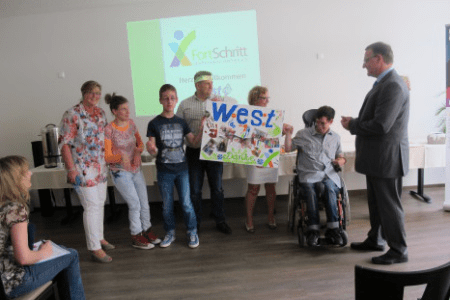 To help create excitement for the campaign, team members at the Stolberg plant served freshly prepared specialties and culinary delights from around the world to demonstrate how culturally diverse our workforce is. They also hosted a bicycle tour and offered a course on back fitness. A barbeque marked the end of the charity month.
At the European Headquarters in Eschweiler, each department planned and executed an event. During lunchtime, employees were encouraged to participate in a soccer skill shoot, golf tournament, dart or quiz game. Others enjoyed homemade foods such as hot chili, a variety of salads, a healthy breakfast, Bavarian snacks, or waffles with hot cherries and ice cream.
Team members at the plant in Eschweiler organized a variety of health checks and had representatives from different medical insurances promote health, nutrition and fitness. Old traditions weren't neglected and during lunch, the management team served hot dogs and other delicious foods.
At the new office site in Wuerselen the IT, purchasing and data base management teams prepared a low carb menu, organized a smoothies bar and challenged their colleagues in a XBox game. Employees from other sites were also encouraged to join a bicycle tour or running group.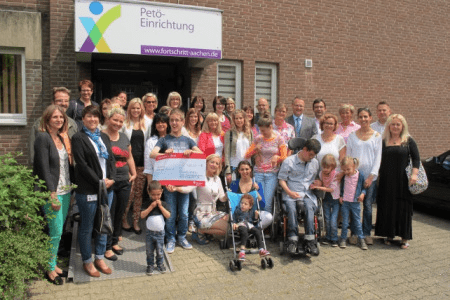 The month of May was very rewarding and has fostered a great amount of collaboration and team spirit among all employees. On June 24, the team handed over the charity check to FortSchritt. In doing so we hope to pave the road to success, one step at a time.