West's Global Communications Team
West At CPhI Istanbul
From June 2-4, West Pharmaceutical Services, Inc. made its debut at CPhI Istanbul—a leading trade show in the Eurasia region. Each year, CPhI attracts approximately 4,000 professionals—bringing together local and regional drug manufacturers with global suppliers of raw materials, machinery, packaging solutions and contract services.
Sales, marketing and technical customer service teams welcomed visitors from all over the world at the West booth and shared the company's recent innovations, while also discussing general trends in the pharmaceutical and biopharmaceutical industry.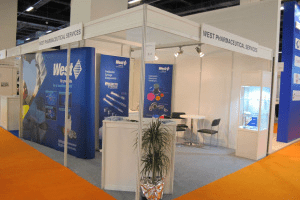 Simon Meurer, Manager, TCS, presented Primary Packaging Solutions for (Bio-) Pharmaceutical Applications and addressed ways in which to reduce regulatory and supply chain risk by integrating high-quality components and processes.
The event offered a unique opportunity to exchange ideas with technology leaders and experts from across multiple markets within the pharmaceutical industry. Additionally, West attendees were given the opportunity to join educational sessions about key trends in the global pharmaceutical market.
Events like CPhI Istanbul make it possible for West to share the company's latest developments among new audiences and engage in an important dialogue with our industry peers.
West looks forward to presenting at CPhI Europe, which takes place October 13-15 in Madrid.