West's Global Communications Team
West Without Borders–Community Day in Germany
On May 30, 2015, West employees in Germany donated their time and manpower to support two local non-profit organizations—Kids auf Trab and Zwischen Uns e.V.—with a community day, held under the patronage of Rudi Bertram, mayor of Eschweiler.
Both organizations aim to improve the lives of those with disabilities. Kids auf Trab offers therapeutic horseback riding for mentally or physically handicapped children to strengthen their social development. Zwischen Uns e.V. was founded with the mission to offer a place of employment to young adults with mental and physical disabilities. Depending on the individual's talents and interests, they produce unique felted and woven goods, paint or cook. The organization also operates its own shop.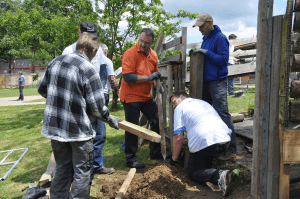 For Zwischen Uns e.V., an allotment garden had to be made handicap accessible so that the organization can grow its own vegetables. West employees offered their physical support by paving, building planting beds and posting a commemorative plaque at the garden gate.
At the same time, another group set out to renew the horseback riding grounds for Kids auf Trab and equipped the stable with windows, built a dog pound and fixed and painted the fencing. At the end of the day, West surprised Mrs. Jacobs—who runs the organization with the help of her two sons—with a dump trailer.
None of this would have been possible without the volunteer support of West's vendors who provided necessary machinery and their expertise. A portion of the funds raised by the Eschweiler office for during the month of May was used to purchase building material for Community Day.
Thank you West employees, family members and partners for making a positive impact on our community. We are happy to add these two worthwhile organizations to our charitable efforts.