West's Global Communications Team
West Pharmaceutical Services At Interphex 2015
From April 21-23, West Pharmaceutical Services joined 12,000+ global pharmaceutical and biotechnology industry professionals and 600+ suppliers at INTERPHEX—the International Pharmaceutical Expo—sponsored by the Parenteral Drug Association. Every year in New York City, the show brings together industry leaders to focus on biopharmaceutical development and manufacturing solutions that can safely and cost effectively process all dosage forms for life-enhancing drugs.
Not only did the West sales team welcome visitors to Booth #1106, but Andy Polywacz, Vice President Quality Assurance and Jen Riter, Sr. Director, Global Analytical Services, Analytical Labs, presented: Particles Causing End of Line Rejects and Drug Product Recalls: Overcoming Packaging Challenges and Need for Adequate Controls. The session provided insight into the various sources, causes and concern for particulates from primary and secondary packaging components.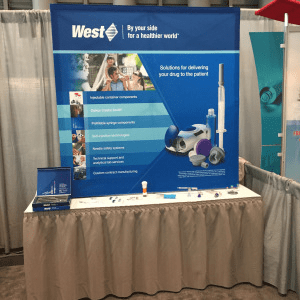 Andy specifically outlined the four main contributors of foreign matter—people, equipment, environment and materials—and urged the audience to consider holistic approaches to mitigate risks associated with packaging. Among these is the adoption of standard manufacturing practices to address particulate risk that meet the needs of both the pharmaceutical industry and today's regulatory environment.
Jen's presentation took a deeper dive into the various methods of particle testing and explained how selecting the optimal method is dependent upon a better understanding of the particle load. While pharmaceutical ingredients and stability issues can contribute to particle load, as does the environment and manufacturing equipment, materials used in primary and secondary packaging components are often identified.
"Events like INTERPHEX are what enable and encourage technology leaders within the industry to continue to drive forward with improvements and advancements for the betterment of the patient," said Simon Côté, Senior Technical Support Engineer. "It gives companies like West the opportunity to share our product offerings, while at the same time learn about new and innovative technologies and build relationships within the industry."