West's Global Communication Team
West's Four Facilities in Germany Wrap-up a Successful West Without Borders Campaign
We would like to thank all West employees in Germany for their commitment and hard work during this year's West without Borders charitable campaign. More than 16,000 Euro was raised and presented to the three selected organizations—Kids auf Trab, Zwischen Uns e.V. and FortSchritt Städteregion Aachen e.V.—during a closing ceremony on September 24.
What is even more rewarding is the long-term relationships that were established with the organizations we support. FortSchritt sent a special thank you letter to Heino Lennartz, President, Pharmaceutical Packaging Systems, EU, praising the extraordinary commitment and continued support of the West team in Germany. West has been a supporter of the organization since its inception, enabling it to grow and offer its unique conductive therapy to kids and young adults in the community and neighboring countries.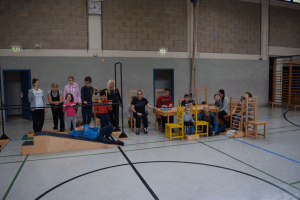 FortSchritt hosted its intensive two-week conductive education session and was happy to report that the newly purchased therapy furniture was delivered on time and already put to good use. In addition to the monetary donation, West provided volunteer hours and transportation to assist FortSchritt in delivering the therapy furniture and equipment to their facility.