West's Global Communications Team
West Germany Employees Help Refugees in the Local Community
The number of people fleeing from war to seek refuge in Europe is increasing every day. Many people arrive with harrowing tales of overcoming long distances carrying small children in their arms, having nothing but the clothes on their backs.
About 800,000 refugees are expected to arrive in Germany this year. Cities and local authorities are doing their best to provide food, shelter and medical treatment, but are struggling to cope with the huge number of people. Recently, 150 refugees arrived in Stolberg and 151 in Eschweiler.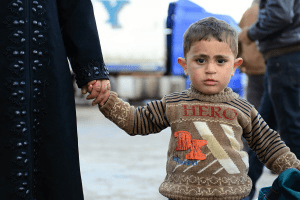 Citizens of Stolberg and Eschweiler are demonstrating solidarity and offering their support to help refugees assimilate by raising money, donating goods, and providing housing. One volunteer said, "It is very important that we all let the refugees know that they have our support to help them get settled."
West employees in Germany have responded with a targeted call for donations. First, a collection of waterproof clothing for refugee children in Eschweiler was organized overnight and delivered the next day. "Because families arrive wearing their summer clothes, they are not prepared for the local weather," explained a social worker.
A second call for donations was initiated the following day. About 50 suitcases and travel bags, several boxes of toiletries, and childcare products were donated by West employees. In addition to the West donations, the Stolberg location of Dalli/Mäurer & Wirtz (Europe's second-largest consumer goods manufacturer of personal care and home care products) decided to donate another two pallets of hygiene articles.
"We were so thrilled when we heard the news that the general manager of Dalli/Mäurer & Wirtz, Mr. Wirtz, decided to join our initiative by donating two more pallets of articles," said Patricia Poschen, Executive Assistant. "It is nice to see what you can achieve in your local community when people are working together to support those in need."
Anne Faust, whose husband Jim works for West as Vice President, Global Process Engineering and is temporarily based in Germany, offered her help to support the refugees who arrived in Aachen. Anne will be serving lunch to the families and children who are suffering from their long and difficult journey to Germany.
It has been very moving to see this effort come together so quickly and to have the ability to support refugees in a way that engages West, our employees, and the surrounding communities.