West's Global Communications Team
West-Stolberg-Celebrates-25-Years
West Pharmaceutical Services, Inc. celebrated its 25th anniversary in Stolberg, Germany on September 12, 2015. It was a special occasion for all in attendance and a good opportunity for employees to get together away from day-to-day business operations.
Guests were welcomed by Plant Manager, Erik Classen who acknowledged the outstanding performance that all employees have made to the growth and success of the plant. Heino Lennartz, President, Pharmaceutical Packaging Systems, EU, stressed the team spirit that is unique to Stolberg and still prevails today. "We are celebrating not only a building but its people," said Heino. "Shared values and collective responsibility has helped to grow the seeds that the founder of Pharma-Gummi, Hans Wimmer, planted many years ago."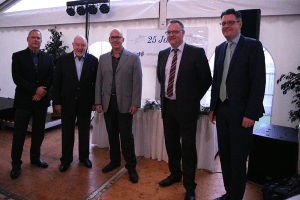 Fred McCleery, Vice President, Seals Operations travelled from Tampa, FL to address the crowd in German. In his speech he highlighted his long history and connection with the Stolberg plant, having managed the facility from 1997 through 2006. "It is like coming home to family," said Fred when recalling his frequent visits.
Special guest, Mayor Tim Gruettemeier, underlined the importance of West as an innovative market leader in the business hub of Stolberg and remarked that he was impressed by the modern plant technology he saw when visiting the facility in March. Hans Wimmer, the founder of Pharma-Gummi, looked back on the historic milestones of the plant and is now pleased to see his "baby" thrive and prosper.
West traces its roots in Europe to 1960 when Hans Wimmer formed Pharma-Gummi in Vicht, Germany, with a vision to serve Europe's pharmaceutical manufacturers with safe and reliable elastomer components. Pharma-Metall was founded in 1982 and moved into the new facility in Stolberg in 1990.