Lauren Orme, PMP
Senior Technical Account Specialist
ICH Q3D Elemental Impurities – What are the Requirements?
The International Conference on Harmonisation (ICH) has issued Guidelines for Elemental Impurities to limit patient exposure to potentially toxic elements above a specified limit during their course of treatment.
Elemental impurities can be introduced, either intentionally or unintentionally, by excipients, manufacturing equipment, packaging (primary and secondary) and, of course, the drug substance itself. The ICH Q3D guideline identifies three key components to risk assess elemental impurities:
Evaluation of toxicity data for potential elemental impurities.
Establishment of Permitted Daily Exposure (PDE) values for each element.
Development of controls for limiting inclusion of elemental impurities.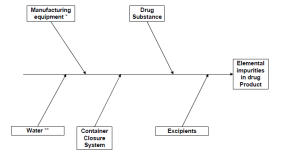 What are the elements included in the Guideline?
The elements evaluated are organized into several classes (listed below):
| | | |
| --- | --- | --- |
| Class | Elements | Should Elements be included in Risk Assessments? |
| Class 1 | As, Cd, Hg, and Pb | Yes |
| Class 2A | V, Mo, Se, and Co | Yes |
| Class 2B | Au, Tl, Pd, Pt, Ir, Os, Rh, Ag and Ru | Yes, only if intentionally added |
| Class 3 | Sb, Ba, Li, Cr, Cu, Sn, and Ni | Depends on route of administration |
| Other | Al, B, Fe, Zn, K, Ca, Na, Mn, Mg, and W | No |
Class 1 elemental impurities are significantly toxic across all routes of administration and require consideration during risk assessment across all potential elemental impurity sources.
Class 2A elemental impurities possess enough toxicity to require assessment across all potential sources and routes of administration due to their higher relative natural abundance (US Geological Survey, 2005).
Class 2B elemental impurities have more variable toxicities and require assessment across potential elemental impurity sources only if they are intentionally added to the processes used to generate the material under evaluation.
Class 3 elemental impurities have relatively low toxicity via the oral administration route but require consideration in the risk assessment for other routes of administration (e.g., inhalation and parenteral routes).
Other Elements: This category includes elemental impurities that have been evaluated, but for which a PDE has not been established due to their low inherent toxicity and are addressed by other guidelines and regional regulations.
How can I understand what impurities my container closure components are contributing to my Drug Product?
First, let's understand a key difference between extractables, potential elemental leachables and elemental impurities.
Extractables, in this case, are elements which can leach from a component. These are determined based on components being extracted under exaggerated conditions (i.e. acid solutions) at high temperatures. Components are screened for elemental extractables using generally well characterized methods. Result for extractable screening studies are reported as semi-quantitative until a method would be optimized and validated for specific elements. The purpose of extractable studies is to understand semi-quantitatively which elements can be extracted from the container closure system and use that knowledge to make decisions regarding relative risk. If there are elements of known concern at a given level and/or oxidation state, a method may need to be optimized because the screening method may or may not be suitable.
Potential Elemental Leachables are elements found in a solvent similar to the drug product and therefore can indicate the likelihood of occurrence in the final drug product.
Elemental Impurities are extractable elements that have been found in the final drug product under normal conditions of use. Elemental impurities are determined based on methods that are optimized for specific elements in drug product and validated.
To best evaluate your container closure system, West recommends the following approach:
Acquire an initial understanding of semi-quantitative extractable elements from primary container closure system components.
Consider the contribution of extractable element(s) to the final drug product elemental impurity profile. (Potential Elemental Leachables).
Conduct a drug product elemental impurity risk assessment to identify elements that may pose safety or quality concerns.
Link target elements back to the source(s) and origins to determine which components may need to be controlled.
Develop and validate methods for elemental targets in final drug product over the shelf life and individual components as necessary.
Ensure appropriate supplier agreements are in place that will notify you if there are any changes that could affect the elemental profile.
How can West help?
West can provide a variety of services to help aide in your overall risk assessments:
Extractable analysis – West Analytical Services has developed specific methodology to evaluate all elements included in the ICH Guideline.
Elemental leachable analysis – Once extractable elements have been assessed and targets confirmed, West Analytical Services has the capabilities to develop and validate specific methods to detect and quantitate elemental impurities in the drug product.
Overall Support – West can collaborate with you to support these assessments through setting up supplier/quality agreements, regulatory and technical support and availability of on-site auditing of our manufacturing sites.
What are the known implementation dates for ICH Q3D?
In Europe, the EMA has announced that new drug product applications will be required to comply with ICH Q3D beginning in June, 2016. Transition for marketed products is December 2017.
In the US, FDA has not yet set implementation dates for drug applications. However the USP has announced an implementation date of January 1, 2018 for General Chapters <232>, Elemental Impurities—Limits and <2232>, Elemental Contaminants in Dietary Supplements, in order to align with ICH Q3D.