West's Global Communications Team
Mike Treadaway Completes London Marathon–Raising Funds and Awareness at the Same Time
A huge congratulations to our own Mike Treadaway, Vice President & General Manager, Contract Manufacturing, who finished the 35th annual London Marathon on April 18, 2016!
Mike joined over 39,000 athletes who participated in this prestigious event—completing the race in 4 hours, 31 minutes. Mike combined his passion for running and goodwill by raising more than $3,000 for JDRF. JDRF (formerly known as the Juvenile Diabetes Research Foundation) is a major non-profit organization dedicated to funding type 1 diabetes research (T1D), with the vision of "a world without type 1 diabetes."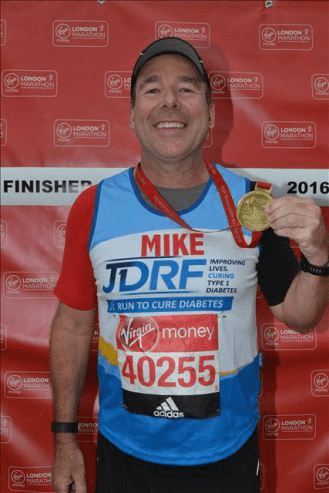 With the completion of the London Marathon, Mike has now completed 5 of the 6 Abbott World Marathon Majors and is well on his way to achieving his goal of completing all 6 by running in the Tokyo Marathon in 2017. The Abbott World Marathon Majors consists of six of the largest and most renowned marathons in the world: Boston Marathon, Virgin Money London Marathon, BMW Berlin-Marathon, Bank of America Chicago Marathon, Tokyo Marathon, and TCS New York City Marathon. The organizers of these events are united in their effort to advance the sport, raise awareness of its elite athletes, and increase of the level of interest in elite racing among running enthusiasts.
West's Contract Manufacturing group, is a preferred supplier to several market leaders for continuous glucose monitoring systems and insulin pens that improve quality of life for patients living with diabetes. Mike's commitment to giving back is a great example of West's philanthropic culture.