West's Global Communications Team
Kinston Facility Receives 2016 Facility of the Year Honorable Mention
West's Kinston, NC facility was recently recognized with an Honorable Mention at the 2016 International Society for Pharmaceutical Engineering's (ISPE) Facility of the Year Awards' ceremony on June 7, 2016, in Bethesda, Maryland. The award acknowledged the West team's creativity and innovation during the Ready-to-Sterilize (RS) Expansion project, which was completed in June 2015.
The ISPE awards recognize industry leaders in pharmaceutical and biotechnical facility design, construction and operation. West was one of three facilities to receive Honorable Mention at this year's awards ceremony.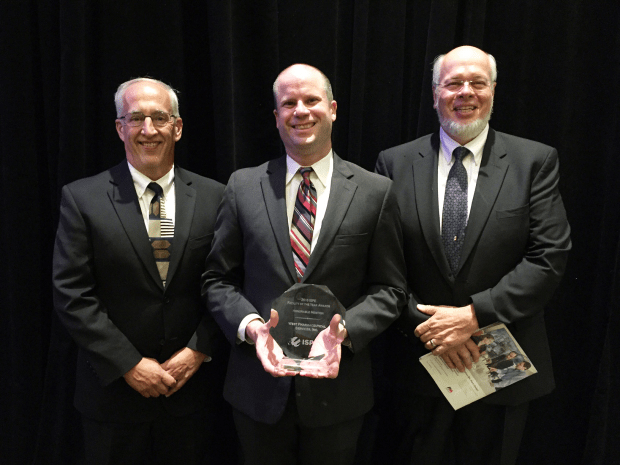 The RS Expansion project was initiated in 2011, when West identified the need for more manufacturing capacity for RS products. The Kinston plant was selected for expansion concurrent with ongoing operations due to superior performance, facility and labor capacity, and proximity to some of West's key customers. An addition of 22,000 square feet was added to the facility, which now comprises over 200,000 square feet for the manufacturing of a variety of rubber components serving the injectable drug and healthcare markets.
Among the many innovations was the design and development of a custom floor-to-wall glass air return wall that enables customers to view the manufacturing process without having to change into cleanroom gowning.
"The facility shows extremely well to the numerous customers who visit and audit Kinston on an ever-increasing basis," said Director of Kinston Operations Tom Gribbin, "The ability to show customers the manufacturing processes up close through glass-walled viewing corridors literally takes their breath away and creates an immediate strong impression of West's customer commitment."
Additional enhancements to the HVAC and environmental monitoring systems allow West's Kinston team to tightly control the production environment, ensuring quality products for customers. Lean techniques and principles were used during design to optimize flow, eliminate waste and facilitate quality and compliance.
For more information about ISPE and the Facility of the Year Awards, click here.
A special thanks to Program Manager Ed Hill for coordinating the award submission and participating in the recognition.
Congratulations to the Kinston facility on this wonderful accomplishment.