West's Global Communications Team
WIN Initiative Comes to Germany
In 2014, the West Women Investing and Networking (WIN) initiative was born under the leadership of Karen Flynn, Sr. VP & Chief Commercial Officer, and a group of female employees at the West U.S. headquarters in Exton.
The group's primary purpose is to foster learning and professional advancement through networking with women not only within the organization, but with other external business leaders. This is accomplished through mentoring, educating and developing WIN members and their female counterparts to enable West to achieve its business goals.
To launch this initiative at West's European locations, a steering committee based in Eschweiler, Germany was formed. The group consisted of six women representing different departments, nationalities and age groups. The program is now open to female employees at all levels and across Europe to give them the opportunity to connect with their peers.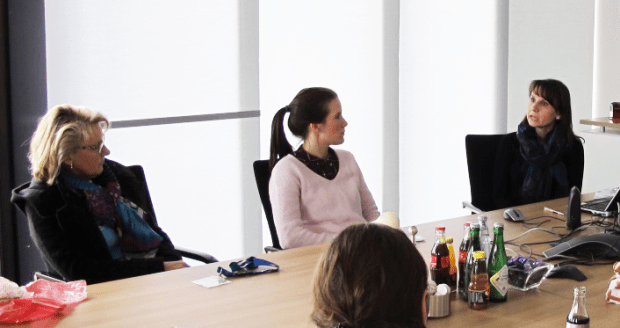 The official WIN European kick-off session took place on March 8 and attracted a large crowd of women and men who were eager to learn about WIN and how to get involved. The steering committee members explained that they will organize TEDTalk networking sessions over lunch and invite guest speakers on a variety of topics relevant to women in the workforce. Iris Bavaj, Sr. Director Quality Operations, has potentially reached out to the Federal Association for Women in Business and Management e.V. in Aachen to evaluate a partnership and create a meaningful networking opportunity.
The first TEDTalk that WIN Europe hosted, featured Facebook's Chief Operating Officer Sheryl Sandberg, regarding how there are not enough women in leadership roles throughout all professional industries worldwide. Women also often face harder choices when it comes to their professional success and personal fulfilment. Finally, she noted that it is the responsibility of companies to unlock the full potential of their female leaders.
Congratulations to our colleagues in Europe for continuing to evolve this important initiative. We look forward to hearing more from the newest addition to our WIN program.