West's Global Communications Team
Carnival Festivities Help Raise Funds for Animals in Aachen, Germany
The carnival season, also referred to as the "Fifth Season," is one the most celebrated traditions in the Rhineland of Germany where West's German plant and office sites are located.
Carnival festivities took place 40 days before Easter, starting on November 11 at 11 a.m. and ending on Ash Wednesday, the beginning of Lent. A group of female employees at the European Headquarters in Eschweiler turned women's carnival on "Fat Thursday" (February 4), into a fundraising campaign and raised 211,11€ in the process. The money has been donated to a local animal shelter in Aachen.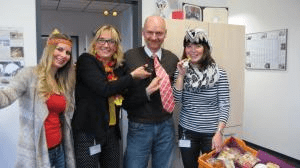 Disguised with masks or costumes and equipped with scissors, the women sold doughnuts and cut off the ties of their fellow male colleagues for a monetary donation. Most of the gentlemen came prepared to sacrifice their ties for a good cause. At the end of the day the "trophies" were exhibited and employees were able to vote the most unique tie in terms of design.
Thanks to the West team in Germany who helped make this campaign a fun and successful way to give back to the community.