West's Global Communications Team
West Pharmaceutical Services' Karen Flynn Receives Silver Stevie Award
On November 18, during a gala event at the Marriott Marquis Hotel in New York City, Senior Vice President and Chief Commercial Officer Karen Flynn was awarded a Silver Stevie® Award.
Karen won in the category Female Executive of the Year – Business Products – More Than 2,500 Employees at the 13th annual Stevie Awards for Women in Business. She was recognized for her instrumental role in leading West's development and execution of a long-term strategic plan, realigning the organization from a product-focused structure to a market orientation.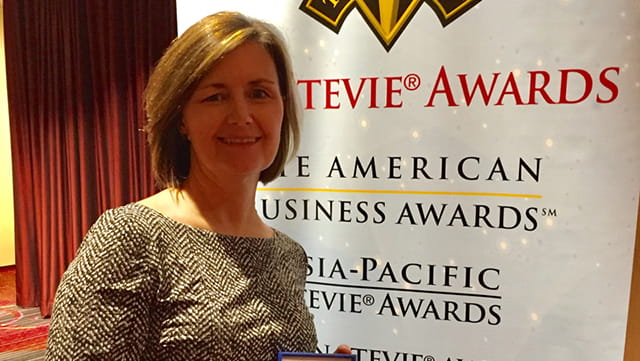 The Stevie Awards for Women in Business are the world's top honors for female entrepreneurs, executives, employees and the organizations they run. All individuals and organizations worldwide are eligible to submit nominations – public and private, for-profit and non-profit, large and small. The 2016 awards received entries from 31 nations and territories.
Throughout Karen's career at West, she has passionately supported opportunities to help women of all levels succeed within West and in the greater community. Most notably, Karen helped establish and serves as the executive sponsor for the West Women Investing and Networking (WIN) Group, which is dedicated to mentoring, educating and developing women to foster their professional success at West.
Karen heads the global Commercial Team and is tasked with driving growth across three major markets: Biologics, Generics and Pharma. Her team spans more than a dozen countries and includes marketing, sales, contract manufacturing services, quality assurance, regulatory affairs, scientific affairs and technical services. Outside of West, Karen lends her professional expertise to several volunteer efforts, including serving on the Board of the Directors for the Chester County Economic Development Council and the Advisory Board for Downingtown STEM Academy, a top Pennsylvania school for students pursuing science- and technology-focused education.
Congratulations Karen! To learn more about the Stevie Awards for Women in Business and the list of Stevie Award winners visit the Stevie Awards website.